Who's got law 2
I'm still not convinced that Trump is not a false flag. If he takes office and actually starts changing things, we'll know he's real.
At the moment
it looks like he was allowed to "win" as a sting. Bring the Deplorables out into the open so they can be ID'd and exterminated. From
Edweek:
Teachers tried to strike a balance between offering students who were against Trump a place to process their feelings and making sure that students who support Trump don't feel isolated. Kathryn McCalla, an 8th grade English teacher in a liberal county of Michigan, said her students were mostly depressed about the election results and while she condemned some of Trump's inflammatory comments, she tried to keep an even tone. "I did not want to rain shame on the students whose parents voted for Trump," she said. "I wanted to make sure they knew that a vote for Trump does not necessarily mean a vote for hate."
Does not necessarily = Yes it does. We can decode the cat whistles. = = = = =
Here in Spokane,
The students wore shirts with phrases from the president-elect written on them in silent protest. "They asked us what we were trying to get from this," said junior Jill Lambie. "We told them we just wanted to start a conversation about whether or not this is OK." The school district told KHQ the shirts violated the dress code and the students were asked to turn the shirts inside-out, which they did. The students said everyone, including the staff, were overwhelmingly supportive. Parents said they approved of the kids speaking up, and the way they did it.
Some of the shirts were explicitly obscene.
The staff were overwhelmingly supportive.
Would the staff be supportive of a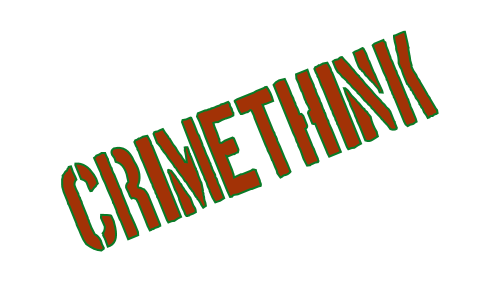 No need to even ask the question. = = = = =
Tech-tyrants are much more direct:
"If you do not agree with this statement then please reply to this email with your resignation because you have no place here," wrote Matt Maloney, Co-Founder of Grubhub. "We do not tolerate hateful attitudes on our team." ... The young CEO boasted about the company's supportive and inclusive culture, saying he "firmly believes that we must bring together different perspectives."
Different perspectives. Different perspectives. Different perspectives. Ah, now I see. You are free to obey the Empress when standing directly in front of the Empress, and you are free to obey the Empress when standing at an oblique angle to the Empress, and you are free to obey the Empress when looking at the Empress from a distance. You are not free to criticize the Empress no matter where you stand.
Labels: #DeplorableLivesMatter, Age of Stings