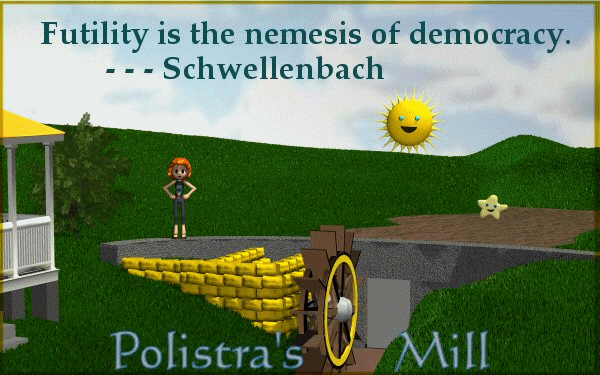 Well, this will be good for Campfire
Now that the Boy Scouts have become the Fag Scouts, there will be plenty of new business for the Campfire outfit. Back in the '70s when the Girl Scouts became the Dyke Scouts, civilized parents moved their girls to Campfire. It will be interesting to see what happens. Somebody might start a new "Traditional Boy Scouts" organization, but I sort of doubt it... "Classic Coke" retronyms generally don't work well, and there's no point in reinventing an alternative that already exists. It's sharia time, folks.
By the victors
Technological history, like national history, is written by the victors. Gates and Jobs rewrote the history of desktop computing to make Gates and Jobs the pioneers, ignoring the 10-year runup to the PC by IBM and Dec and HP. All three of those stodgy old companies had desktop computers in the late '70s. Similarly, the history of the Web has been rewritten so it starts with Tim Berners-Lee. Example of adulation in an
NPR feature:
The story of the Web began in 1989 at a European particle physics laboratory called CERN. Hundreds of the world's smartest scientists were putting together huge experiments to hunt for new particles. They worked in teams; each scientist would build one little part — a circuit board or a piece of software. Then they'd put it all together. Tim Berners-Lee was working at the lab as a computer scientist, and he noticed a growing problem: Files from one computer rarely worked on another because researchers were coding information in different formats for different operating systems. "So, in fact, often you just had to go into the corridor and buy [the other guy] a coffee to find out how things worked," Berners-Lee says.
Pure nonsense. All sorts of data were being moved around the (mostly academic) internet in 1975. Compuserve began online operations in 1978, and offered pretty much everything you can get on the Web now. It was severely limited by slow modems at the start, so big files like videos were
wildly impractical
but not impossible. You could download a one-minute video in MIME form if you were willing to tie up your phone line exclusively for a couple of days. Berners-Lee contributed a protocol that removed the 'proprietary-ness' of Compuserve and opened the Web to a wider variety of computers, but didn't really add any functionality.
Fast data transfer
is what added the functionality.
Why do they keep saying this shit?
The fucking Experts and fucking Authorities always assure us that CIA never never never never never operates within US boundaries. It's solely a foreign intelligence agency. Shit. If you've ever been involved with activities that CIA finds interesting, you know that CIA operates here. It doesn't even bother to hide. Now we have an official acknowledgment of the fact IN STATE LAW, and yet the Experts continue to pour ratshit on our heads. The Kitsap Sun newspaper, operating for some unknown reason as actual journalists,
exposed
the fact that Wash state (along with all other states) issues secret aliased drivers licenses to CIA folks for undercover activity. The state legislature slavishly responded by
rewriting the law
to make such secret licenses definitely permissible. Thanks, fuckheads.
Woolwich
Two things seem to be missing in the discussion so far. 1. Why the fuck wasn't the soldier carrying a gun? If he
was
armed, why the fuck didn't he defend himself? The attack wasn't a surprise ambush; it apparently took a couple of minutes, with lots of verbal warning from the attackers. Has England completely lost the whole concept of self-defense? 2. Linkage seems to be a confused matter. All the authorities are saying you can't link the action to Islam, and you can't link it to British foreign policy. Nonsense. The links are there. Don't ignore the links. Instead, try to understand the links correctly, and draw the correct active conclusions. On the link to Islam: Sheikh Osama has made his purposes clear. He was acting as a paladin for the
Arab people
, and he was using their Islamic beliefs as a sort of accelerant. If most Arabs had been Buddhist, he would have used their Buddhist beliefs as an accelerant. Osama's war is against
foreign interference with Arab nations,
not about Islam vs Christianity. The neocons (ie Israel and its slaves) have propagandized us into believing that it's all about Islam. On the link to foreign policy: You have to ask the cost vs benefit question. UK and US have been
interfering with Arab nations
for a long time. UK since 1920, US since 1950. What benefit have we received for fucking around in the Arab world? Zero. What's the cost to us? Thousands of soldiers directly killed in the wars, billions of dollars wasted, thousands of civilians killed by Arabs angered by our fucking around. Zero benefit, huge cost. Answer: Stop fucking around.
BRING EVERYTHING AND EVERYONE HOME.
Who's free?
News item:
Iran's electoral watchdog has barred moderate ex-president Akbar Hashemi Rafsanjani from standing in a June 14 presidential election, the interior ministry said on Tuesday. Eight candidates won approval to stand -- five conservatives close to supreme leader Ayatollah Ali Khamenei, as well as two moderate conservatives and a reformist, according to AFP. Esfandiar Rahim Mashaie, a close but controversial aide to incumbent President Mahmoud Ahmadinejad, was also omitted from the list, AFP reported.
Hmm. I thought Persia was a one-man dictatorship, with "swivel-eyed loon" Ahmadinejad as the unquestioned Maximum Leader. Then how come his chosen successor was eliminated from running for office? How come he has to petition the election agency, with no real hope of winning? That would never happen here in Free And Fair And Democratic America. Our Maximum Leader's chosen successor is never eliminated. Anyone chosen by one of Goldman's two "parties" automatically becomes president, whether he's qualified or not. Our Maximum Leader is absolutely Free to choose his successor! Hooray for Freedom!
Perfect freudian
BBC announcer introducing a feature about tax shelters, with emphasis on Apple: "Here's a statement from Apple CEO Tim Crook ... aaah, excuse me, Tim Cook...." Right the first time! = = = = = Next day, same announcer, roughly same time of day: "As we know, women are far more likely to suffer from a wide variety of menstrual, excuse me,
mental
, problems..." Right the first time!
Moore gets flattened again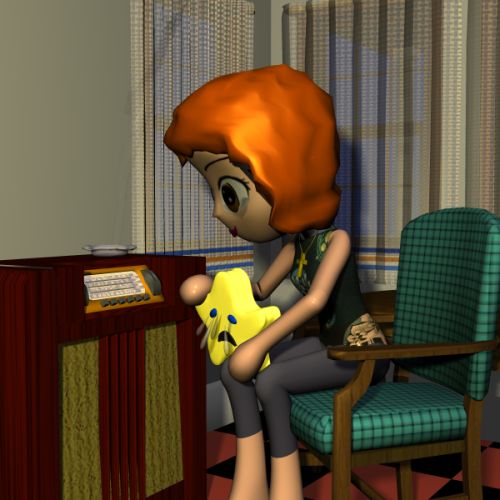 Listening to news of OKC, Shawnee and Moore feeling Nature's whip again. Meanwhile, we've got sunny and 72, expecting a half inch of rain tomorrow. I'm sad for my old stomping grounds, but thankful that I didn't succumb to temptation in 2009. After one terrible winter here, I seriously considered moving back to the Plains. Would have been exactly the wrong time for that move. Since 2009 we've had one half-bad winter and three nothing-special winters, and lots of purely heavenly
summers
and falls. Since 2009 Okla and Kansas have been slammed with terrible tornados AND terrible snowstorms. We give thanks for good sense or inertia or providence or whatever! = = = = = Later: It appears that Okies have forgotten some hard-learned lessons about tornado safety, resulting in an unusually high death toll. Judging from the news reports, houses are being built without any sort of shelter. These are
big new houses
with
wide roof spans
and lots of expensive features, but without underground storm cellars. Wrong priorities! Back in the '50s most houses had either a partial basement or a separate storm shelter. Makes me wonder.... did securitized lending cause lenders and insurers to abandon caution? When a banker expects to get a payback on his
own money,
he wants the borrower to stay alive. When the loan is splintered among thousands of investors, and all ratings are fraudulent, nobody cares if the borrower gets splintered. = = = = = Later again: Death toll has been revised downward to a range that seems more Okie-normal, given the size of devastation. Apparent shortage of shelter still bothers me, though. = = = = = And again:
UK Telegraph
finds a partial explanation for the shelter shortage.
Oklahoma City suspended a programme to subsidise safe rooms "due to insufficient federal funding" while the destroyed city of Moore put its plans on hold as it struggled through the process of applying for money. The Safe Room Rebate Programme is designed to allow families to apply for thousands of dollars to construct shelters in which to seek refuge during severe weather. It is funded through federal dollars made available when the president makes a major disaster declaration for a badly-damaged area. Authorities in both Moore and Oklahoma City said that the relatively few disaster declarations [since 1999] meant there was little money available to help families build shelters.
Still not a good excuse. Builders and owners from the '30s to the '50s
somehow
managed to add cellars without being subsidized. These new houses obviously have lots of unnecessary square footage and fancy features. Could have included a safe room or cellar by eliminating the three-story Great Room or the 50-foot Florentine Marble Plasma TV.
Don't worry, they won't...
Yahoo has bought Tumblr, and idiot boss Marissa Meyer "promises not to screw it up." Instantly reminds me of a good one-liner from Tom Bergeron on AFV several years ago. Bergeron is introducing a clip in which a teenage dickhead is preparing to jump off a bluff into a rocky creek. Dickhead's friend says "Don't do nothing stupid, dude!" ... and Bergeron interrupts, "Don't worry, dude. He won't not do nothing stupid." The grammar doesn't quite work out, but the point is perfect. Teenage Dickhead is incapable of NOT being stupid. Yahoo is incapable of NOT screwing up everything it handles. That's their job. Tumblrites should get ready for new rules, such as ACHTUNG! Alle Tumblrbrauchr müssen beim Desk von 0700 Uhr bis 1800 Uhr sitzen werden sollen haben kann! Heimatsarbeit ganz verboten! Deskarbeit macht frei! ACHTUNG! Alle Tumblrbrauchr müssen von TumblrFührerin Marissa Meyer Permission bekommen, wenn sie zum Pissr oder Schittr gehen wollen gehabt sein sind geworden!
Wow! AP is SERIOUSLY PISSED.
For the first time in human history, an
Associated Press writer
doubts the Eternal Truth Of Gaia[pbuh],
and even dares to criticize Our Lord And God And Guardian Angel Barack Obama[pbuh].
The Obama administration has never fined or prosecuted a wind farm for killing eagles and other protected bird species, shielding the industry from liability and helping keep the scope of the deaths secret, an Associated Press investigation has found. More than 573,000 birds are killed by the country's wind farms each year, including 83,000 hunting birds such as hawks, falcons and eagles, according to an estimate published in March in the peer-reviewed Wildlife Society Bulletin. Each death is federal crime, a charge that the Obama administration has used to prosecute oil companies when birds drown in their waste pits and power companies when birds are electrocuted by their power lines. No wind energy company has been prosecuted, even those that repeatedly flout the law.
Of course these facts have been known and discussed for many years among lovers of facts, but they've never been touched by the national media before. When AP starts treating Obama with the same contempt they formerly reserved for Repooflicans, you know the romance is over! When AP sounds like James Delingpole or Art Robinson ... or me! ... , you know the world has turned upside down. And all because of a few phone-hacks.
Glottal girls
A strange girls-only intonation is spreading fast in England. Somewhat parallel to the girls-only patterns in Japan, but with an extra flip added. Jap girls lengthen the last vowel in a sentence and slide the tone up then down, stopping short of a dominant key. Males go the opposite way, with a sharp short toneless ending on every sentence.
Example
= = = = = The new English girl-tone has a similar downturrrr\`\rrrrnn, but with a strange glottal stop in the middlll\`\lllle. Best example is the British sorority girl in this TV Burp episooo\`\ooooooode.
Starts at 1:55 in the clip.
Francis gets it
The new pope is coming on strong. Unlike Benedict, he's fully aware of modern trends. Bennie seemed to be
stuck in 1964,
like people who call into radio shows and worry about the Kitty Genovese incident. Francis sees the present mess accurately and clearly.
His latest speech
is worth copying and pasting, since the news articles seem to be skipping the best parts. Best parts, with a few inserted links:
The worldwide financial and economic crisis seems to highlight the distortions and above all the gravely deficient human perspective, which reduces man to one of his needs alone, namely, consumption. Worse yet, human beings themselves are nowadays considered as consumer goods which can be used and thrown away. We have begun a throw away culture. This tendency is seen on the level of individuals and whole societies; and it is being promoted! In circumstances like these, solidarity, which is the treasure of the poor, is often considered counterproductive, opposed to the logic of finance and the economy. While the income of a minority is increasing exponentially, that of the majority is crumbling. This imbalance results from ideologies which uphold the absolute autonomy of markets and financial speculation, and thus deny the right of control to States, which are themselves charged with providing for the common good. A new, invisible and at times virtual, tyranny is established, one which unilaterally and irremediably imposes its own laws and rules. Moreover, indebtedness and credit distance countries from their real economy and citizens from their real buying power. Added to this, as if it were needed, is widespread corruption and selfish fiscal evasion which have taken on worldwide dimensions. The will to power and of possession has become limitless. Concealed behind this attitude is a rejection of ethics, a rejection of God. Ethics, like solidarity, is a nuisance! It is regarded as counterproductive: as something too human, because it relativizes money and power; as a threat, because it rejects manipulation and subjection of people: because ethics leads to God, who is situated outside the categories of the market. These financiers, economists and politicians consider God to be unmanageable, even dangerous, because he calls man to his full realization and to independence from any kind of slavery.
Perfect diagnosis. Not much on the prescription side yet. We await more details....