Rhythm method
I got carried away with
1940Censusing.
Started looking for father's mother's line. I knew these folks came from somewhere around Belle, Mo. They turned out to be a lot more common than father's father's name. Scattered all over Osage and Maries counties. After skimming a few dozen pages, I picked up a rhythm of sorts, based on the firm correlation between income and family size. My folks were somewhere around the 30th percentile, which placed them closer to the big-family end but not quite there. I found that I could predict safely which pages were
likely
to contain my folks just by the pattern.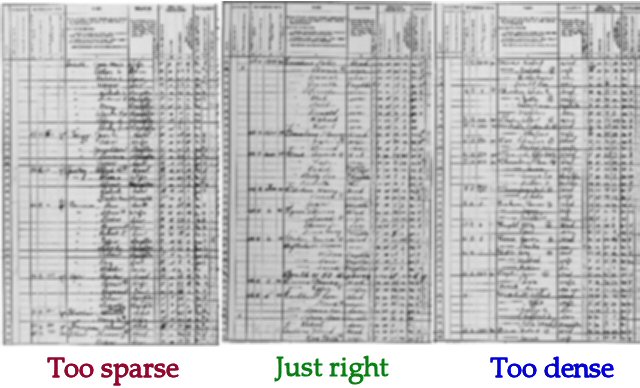 Left page is too poor = too many kids per household. Right page is too rich = too few kids. Middle page contains one of my folks. Somewhat puzzled, though. In this case I had a point of reference: my great-grandfather who I met once when I was 4 and he was 94. I thought he had stayed in Mo. The Census showed 25 households with the correct last name in Osage and Maries, but nobody with the correct first name. Maybe he did move to Okla after all. This is my third incorrect assumption about addresses of ancestors in 1940! [Sidenote: I
could
look up these facts directly. Most of my ancestors have been thoroughly genealogized. But I'm not doing genealogy; I'm just exercising my creaky old mind and drawing some broader conclusions about history.] Osage County had one peculiarity that made it stand out from the general run of Census pages. It was mainly German Catholic, which meant a lot of LONG names (Aufderheide, Kochenberger) and a lot of Catholic schools scattered through the farmland. Because the Census was only for residents, it didn't show schools or businesses as such. But each Catholic school had a dozen resident Sisters, who were easily visible as a block of similarly shaped names that overflowed the blanks. There was one parochial school for every hundred households or so. Bear in mind that this was 1940, still nominally in the Depression... but these farmers remained prosperous enough to support a mini-convent while they were paying taxes for the public schools they weren't using.
Yet another data point
opposing the common notion that "only WW2 broke the Depression".
Labels: Shack people - Cottage people