Time crotch
Here's a genuine oddity. After
finding
that this exact neighborhood was once called Hollywood, I've been trying to get more facts. Ordered some books from Alibris; two of them have come so far, with no meaningful info. Looked through googlebooks; so far nothing, but ran into this extremely strange map.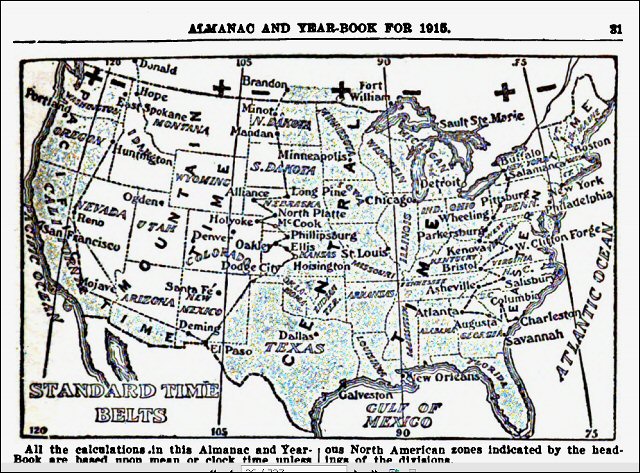 Standard time zones as of 1915. Look at the
triple point
or Y-junction at El Paso. That would be almost impossible to manage. In or near El Paso you could cross a line and gain or lose one hour, or you could cross another line and gain or lose two hours without ever passing through the middle hour! To make it even more complicated, Mexico didn't create formal time zones until
1921,
so Juarez was presumably following solar time, or more likely not bothering with clocks at all. The line between Pacific and Mountain made a turn right on top of "East Spokane", which means that most of the City of Spokane would have been in PST, while the Valley would have been in MST. Was this ever properly applied? Seems like it would create too much weirdness if enforced. A bit later: I see the problem. These lines were drawn using a steady but stupid principle. It must have made sense in terms of surveying and defining the 'metes and bounds', but it's exactly the wrong rule for timezones. Look at the zigzags in Kansas to see the rule clearly. Each zig is EXACTLY ON a city, causing max confusion. Now the MST/CST line still passes through Kansas, but now it tries to run BETWEEN cities, not INSIDE cities. I seriously doubt that these boundaries were ever used.
Labels: Heimatkunde