Soft motors, soft governments
Following immediately on the
Surace dystopia.
When all the carefully designed feedback mechanisms of culture and government have been ripped out or paralyzed by the Goldman virus, is there any hope? Probably not, but here's a half-formed thought. Returning to an
earlier realization,
triggered rather strangely by the virtues of a cheap Chinese gadget.
= = = = = START REPRINT:
It's sort of like a junior version of a Dremel tool, but much weaker and slower. The weak motor is the key to its success, oddly enough. Just run the sander back and forth along the edge of each nail with a light touch, and it takes the nails down to a proper length and smoothness. Time 5 to 10 seconds per toe. No chance of damaging the skin; the small sander always stays on the target toe; and the weak motor stops when you dig a bit too deep. Foolproof and cootproof. Soft motors can be an elegant solution. The old vacuum-powered windshield wipers had a similar self-limiting quality. In a light rain the wipers would wipe when there was enough rain to slide on, and would stop when (or where) the glass was dry. You couldn't burn out the motor or blow a fuse by turning the knob when the wipers were frozen. No software or interrupting timer needed; just mechanical self-regulation.
= = = = = END REPRINT.
In an electronic or mechanical system, there are two main ways to achieve self-control. Good systems generally use both methods where appropriate. One is feedback; the other is decoupling or softness. (Decoupling is less familiar than feedback. Think of a transformer or a limited-slip differential.) The weak nail-grinder and the vacuum wipers are
dumb
systems. They have no CPUs, no mechanical or electric feedback. All they have is
softness
or
weakness
. But the softness serves the same purpose as intelligence or feedback. With the nail-grinder, softness prevents the grinder from damaging skin. With the wipers, softness saves the wipers from icy self-destruction and provides a "smart-like" response to rain. Is there a way to soften or weaken the zero-feedback system of modern Western countries? A way to decouple the central money-generators and secret police from local layers? A way to interpose a high-hysteresis transformer or limited-slip drivetrain?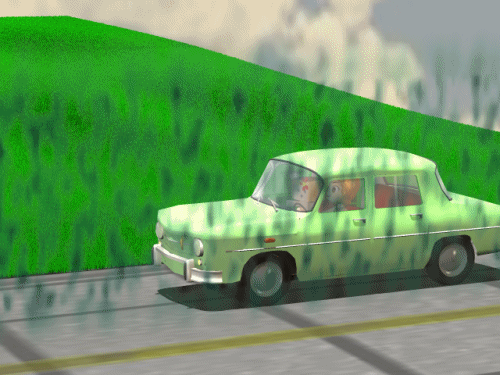 I don't know, but it's worth thinking about. In a historical sense, soft governments generally work better than "democratic" governments. In a "democracy", leaders compete to win the prize of power, which means the winner is the most psychopathic, most manic, most powerhungry fucking bastard in the whole country. Soft monarchies or old worn-out authoritarian regimes have a wider variety of leaders because they're selected by genes, not by fights. You get some powermad wackos but you
also
get some wise men and some ordinary men. Nominally they have strict rules, but practically they don't give a shit unless you seriously and actively oppose them. Wouldn't it be wonderful to have a government that just plain didn't give a holy horseshit?