Time zones and crotches 2
Another piece of info from the same 1915 almanac as
previous entry.
Everyone knows that women "got the vote" with the 19th Amendment in 1919. Everyone knows that wyyymyyyns were totally excluded from politics until the 19th. Right? Dead wrong. I've colorized the timezone map to show where
women could vote in 1915: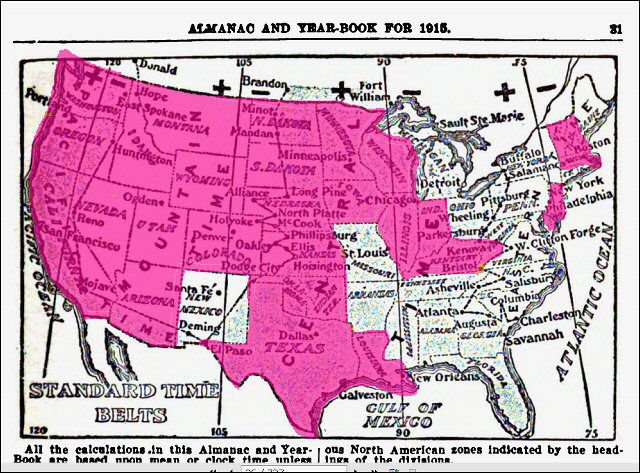 Some of these states had incomplete voting. In general the Pacific and Mountain time zones had total suffrage, Central zone allowed women to vote for most offices, and the five Eastern states had narrower limits. So who actually
got
the vote in 1919? The South and the industrial Northeast. Or putting it another way, women in Republican states could vote before 1919. The amendment brought voting to Dem states. (Though I hate partisan distinctions in modern times, the parties had some meaning back then.) So we can reach a final FACT-BASED verdict on those four so-called Progressive amendments.
ALL WERE PRACTICALLY UNNECESSARY, AND ALL BAD BY PROGRESSIVE OR POPULIST STANDARDS.
Unnecessary: In each case the idea was either spreading quickly across the states, or already federal law. (16) The feds had imposed income taxes before. (17) A 1914 law had already changed the election of the Senate from the correct state-delegate form to the tyrannical and corrupt direct-election form. (18) Half the states had enacted prohibition of alcohol. (19) Half the states had enacted female voting. Bad: (16) The original requirement of excise taxes and tariffs worked to keep government limited, AND placed most of the tax burden on the rich, AND strictly limited foreign trade. If government wanted revenue, it had to tax the rich or slow down imports. (17) Senators who directly represented state governments served as an effective check on federal power; senators who represent nothing in particular are just thugs and traitors. (18) No discussion needed. (19) When the electorate includes women, the government inevitably moves toward tyranny.