Art buzz
Bees are excellent art critics.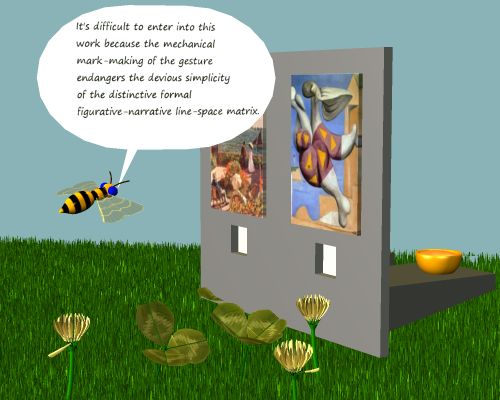 Not that way, of course... When trained in a Skinner-box setup with several samples of Picasso and Monet, bees continue to choose the 'sweet' painter when they see
other
paintings by Picasso and Monet. This gives the lie to the art scholars who love to spew the
nonsense
that I put in the bee's mouth. Scholars claim that analyzing art is a high-level professional undertaking, requiring vast IQ and decades of training. Nope. All it takes is an animal with eyes and a brain.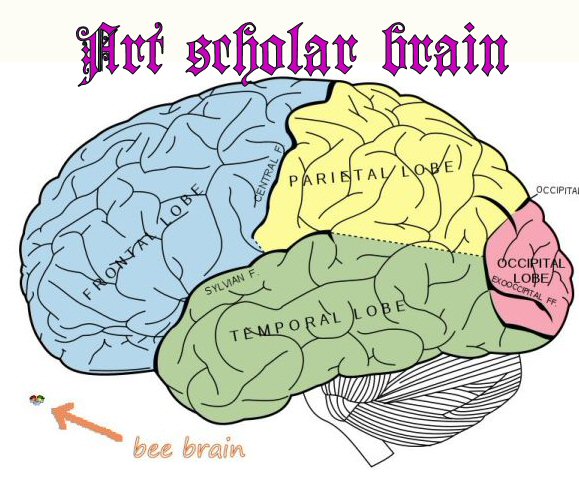 The first part of Reinhard's study is completely unsurprising. Bees are unquestionably good at spotting and remembering patterns. When working clover, they can instantly find and hit the upward-pointing florets. (Upward means full, because the clover
lowers the empty florets.)
The same bee can recognize and hit the sweet spot on a rose or daffodil. Plenty of varied patterns there, not to mention their famous navigation abilities. What's surprising is the
generalization
from an initially learned distinction based on a pattern that has nothing to do with flowers. This eliminates reductionist ideas that the bees are just smelling the sugar or recognizing the color or matching instinctive templates. Clearly high-level pattern recognition is part of the available genetic blueprint for all critters. = = = = = Aside from the fascinating subject, the Reinhard article is an outstanding example of scientific method and writing, and sets the
absolute gold standard
for scientific availability. The researchers tried everything you could possibly imagine to insure that
only the style
was influencing the bees. Processed the paintings for equal overall luminosity, switched to black&white to eliminate color preference, checked the 2d Fourier transform for basic frequency information. The
full article
is
blessedly available online FREE.
Includes excellent illustrations of the training box and the paintings. (Usually the full article is behind a paywall, and usually the full article contains nothing that wasn't in the press release.)
Labels: bee, Grand Blueprint