Wanna gate? Harrogate.
Assange sometimes misses the point of USA STRONG politics, but
this time he mostly GETS IT.
4. The twin result [of the RUSSIAGATE ratshit] is to place the primary self-interest concerns of most Americans, class competition, freedom from crime and ill health and the empowerment of their children, into the shadows and project the Democrats as close to DC and media elites. This has further cemented Trump's anti-establishment positioning and fettered attacks on Trump's run away embrace of robber barons, dictators and gravitas-free buffoons like the CIA's Mike Pompeo. 5. GOP/Trump has open goals everywhere: broken promises, inequality, economy, healthcare, militarization, Goldman Sachs, Saudi Arabia & cronyism, but the Democrat establishment can't kick these goals since the Russian collusion narrative has consumed all its energy and it is entangled with many of the same groups behind Trump's policies. 6. The Democratic base should move to start a new party since the party elite shows no signs that they will give up power. This can be done quickly ....
Well, he still doesn't get it entirely. It can't be done quickly. It can't be done at all. Nothing new can happen here. We are petrified. = = = = = USA STRONG is like the old
Dropping Well of Harrogate.
A nice dramatization of the well was done by
Strange as it Seems
in the '30s. An older account is
here: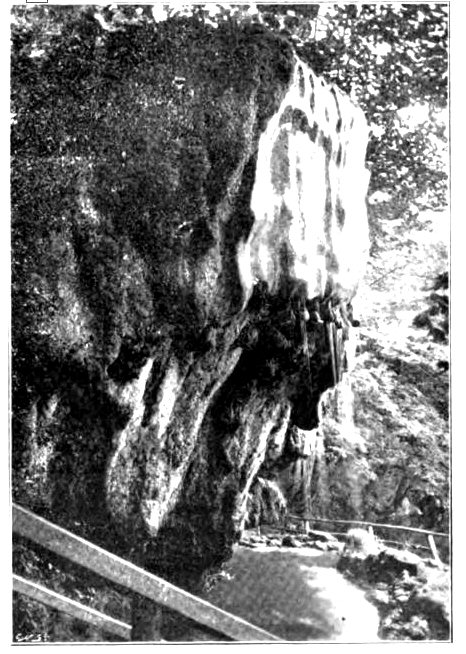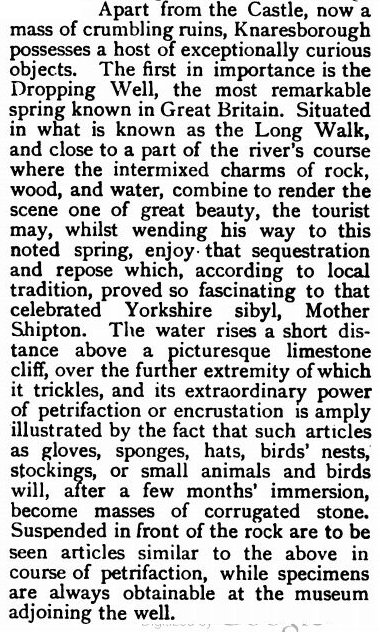 Anything that falls into USA STRONG is petrified. All of its living tissue is turned into rigid inanimate matter. = = = = = Is petrification simply the natural condition of a big modern country? Just good old Parkinson's Law as I'm always tiresomely insisting? FUCK NO. Reading about
Goias
opened my eyes to Brazil's NON-PETRIFIED NON-PARKINSON condition. Brazil is famous for producing
good cars
after USA STRONG and Germany abandoned them. Brazil offers a similar alternate universe for good practices and good government. = = = = =
Example 1:
To further drive economic growth in Brazil, in 2007 the Programme to Accelerate Growth, or PAC, was launched. Investment under this program was planned to amount to BRL504 billion (US$236 billion in 2007) until 2010. PAC is based on five blocks: investment in infrastructure, credit and financing promotion, enhancing the investment climate, tax exemptions and improvement of the tax system, and long-term fiscal measures. The BRL504 billion in infrastructure spending was to be distributed as BRL275 billion ($175 billion) for energy-related projects, BRL171 billion ($109 billion) for social infrastructure and BRL58 billion ($37 billion) for logistics.
What were we doing in 2007? We were TEARING DOWN DAMS to avoid offending Privileged Fish. We were pouring trillions and trillions of dollars into the black hole of the Tribe, which already owned trillions and trillions of dollars plus a privileged connection to the counterfeiting press of the Treasury. We were putting ZERO EFFORT into repairing and building infrastructure.
ANEEL also approved test operations of the 21 MW Nova Aurora project, on the Verissimo River in Goias State, in December 2010. The small plant is owned by Goias Sul Geracao de Energia. And in November 2010, six hydro stations with a total capacity of 645 MW in Goias State were inaugurated. The six projects had a total cost of BRL2.9 billion ($1.72 billion). Construction of these stations was intended to boost the electricity capacity of the less economically developed cities in Brazil's interior and thereby attract more outside investment, according to officials.
Many of these projects were built with engineering help from USA STRONG firms. The picture is clear. Since 1970 EPA and the Tribe have eliminated all CONSTRUCTIVE activity in USA STRONG. We only DESTROY things. We smash our own industries and dams and roads into smithereens. We smash with extreme passion and multiple greed-orgasms the "less economically developed cities in the interior". We smash any foreign country that offends Saudi or Israeli interests into femtosmithereens. Engineering firms can't find work here because we are DESTRUCTION. So they went to Brazil where CONSTRUCTION is still encouraged and funded. = = = = =
Example 2:
Due to the relatively large territory of the state, which was over 600,000 square kilometres (230,000 sq mi), communications were obviously very difficult. The northern part of the state began to feel abandoned by the southern government and began a movement for separation. Local political leaders, many of whom were large landowners and were eager to gain important positions such as governor or senator and financial gain with the construction of a new capital, also encouraged the movement. In 1989 the northern half of Goiás became a separate state called Tocantins.
What happens to state-splitting movements here? Nothing. We can't even split a county any more, let alone a state. We can't DECENTRALIZE anything. Only LBO mergers are possible. All must be subsumed and consumed in one giant black hole. Soros is the universe. The universe is Soros. = = = = = And now we're back to Assange again:
1. The Democratic establishment has vortexed the party's narrative energy into hysteria about Russia.
Perfect word.
Labels: Alternate universe, Make or break