Trash bollards
An article by James Pinkerton
discusses walls and bollards as defenses against "terrorist" cars. Seems sort of pointless in the context of "terrorism". When the FBI wants to exterminate you, it will find a way. But walls are ALWAYS valid for overall self-defense. Pinkerton suggests multi-purpose bollards... I was idly Googlestreeting yesterday; on impulse tried Valparaiso, Indiana. The search offered Valparaiso de Goias in Brazil, so looked there instead. Like much of South America, Valparaiso is all walls. Every house has HIGH walls on all sides, except in the poorest parts of town. The electric meters and mailboxes poke through the wall. Unlike most, Valparaiso has an extra feature. Each house has a solidly built steel bollard with a basket thing on top. These basket things aren't standardized; some have hinged lids, some not, and they vary in size and shape. What are they for?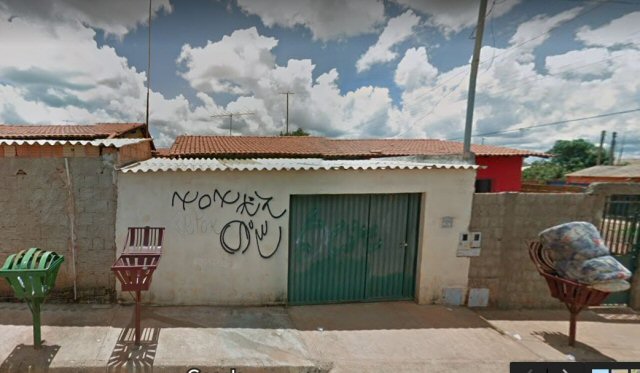 Ah. Trash collection. Reminds me of an equally open system that was used in Stillwater until the '70s. Each house was required to have a post by the alley with a hook for an open-mesh bag. You put your trash in the bag, and the trashmen manually dumped each bag into the truck as they went through the alley. Here's a wall that was broken, currently being replaced. You can see how the
square
electric meters are mounted to become part of a wall, and you can see that duplexes have walls
between
the sides of the duplex. All systems are designed around the constant of walls. [Does this explain why Brazilians are so
comfy and secure?
]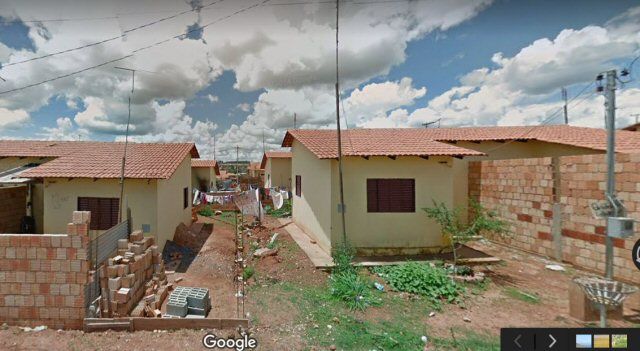 Very few cars are visible. Lots of people are walking around. The cars are mostly VW bugs and buses, which aren't nearly as old in Brazil as they would be here. Brazil made bugs until 1986, and buses of the second generation until 2013. But not all of the vehicles are VWs.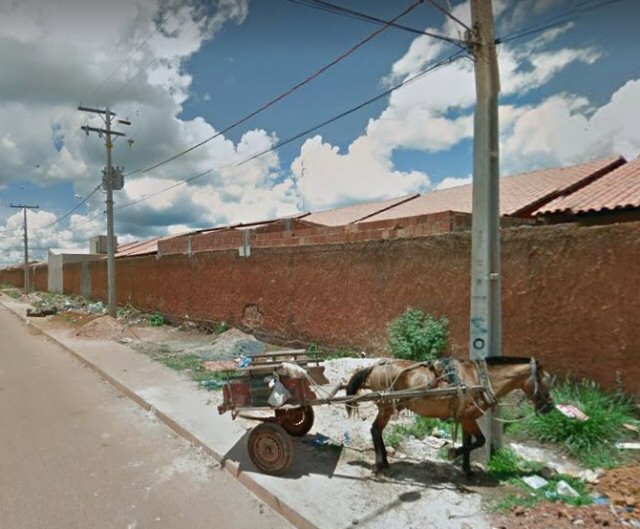 Later thought: Where are the other animals? In a 'loose' part of a USA STRONG town you'll always see dogs and cats. On my morning walks I'll see two dozen cats on the street, a half dozen dogs walking with people, and sometimes a
mule deer family.
Aside from the horse which counts as a vehicle, I don't see ANY four-legged mammals in the Brazil scenes.
Labels: defensible spaces