Wrong question
Looking through old radio schedules... One listing for Spokane station KHQ in 1928 includes a 'Road Report' from 8:30 to 9 AM. Most stations didn't have a traffic or road report at all.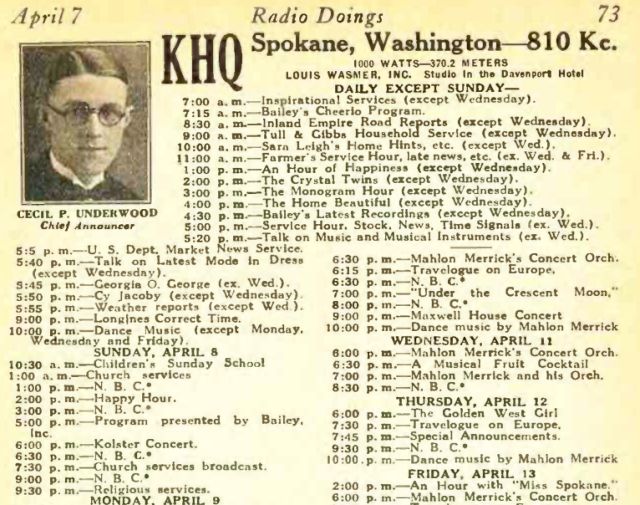 Modern radio stations, including KHQ (now renamed and re-freq'd) typically have the Drive Time Zoo from 5 AM to 9 AM, but the traffic part is done at 8. Was the workday shorter in 1928? For office and retail, yes. For other types of work, no. But that's not the important question. The real question is
who needed a road report.
In 1928 most office workers and factory workers rode the streetcar or walked, so they didn't need radio to tell them about traffic. Now everyone drives, so everyone needs to know where the hazards and obstacles are. Everyone? Well, no. Some people still ride the bus or walk, and
radio still ignores those people
just as it did in 1928. The bus system
very recently
installed its own real-time reporting system. Until last year, there was no immediate info. More broadly,
Who Is News For?
The answer has ALWAYS been
News Is For The Upper Class.
Sponsors don't care about streetcar riders or bus riders or walkers, so news isn't shaped to answer our questions or fill our needs. I've
noticed this
for a long time but didn't connect both sides until now. I saw that news was mainly ABOUT the Insatiables but didn't realize that news is solely FOR the Insatiables. Come to think of it, that's an ADVANTAGE for Deplorables. We're less likely to be phase-locked by the news because the news isn't
trying
to hook us. Both Orwell and Huxley observed that the Party doesn't waste propaganda energy on the proles or Gammas. We aren't influential, so our thoughts don't need to be perfectly orthodox.
Labels: #DeplorableLivesMatter