Supply and demand
An ad for Radio Free Europe from
a 1966 electronics trade mag.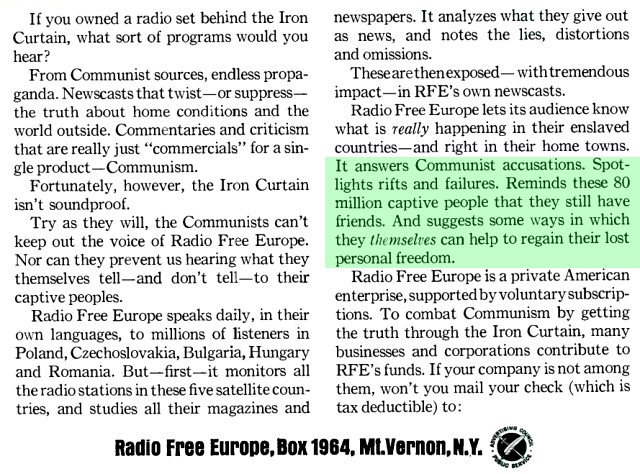 Change some nation names, and change Communist to Neocon, and you've got the current situation.
From neocon sources, endless propaganda. Newscasts that twist or suppress the truth about home conditions and the world outside. Commentaries that are just commercials for a single product: Soros.
The part I've highlighted includes the phrase
suggests some ways in which they themselves can help to regain their lost personal freedom.
In other words, we were
HACKING! INTERFERING! MEDDLING!
When one ideology has a total monopoly of available "information", and when the "information" is constantly and demonstrably false, people get hungry for truth. There's a market for competing products. In 1966 the hunger was in the East and we tried to supply a competing product. Now the hunger is in EU and US, so RT tries to supply a competing product.
Labels: switchover