Analog parallel universe
Continuing my
effort
to analog-ify my little world and re-discover an old world. First, analog stuff is non-hackable. There's no way for CIApplgoogazon to MEDDLE with analog equipment. Second, analog measuring tools have a closer 'impedance match' to the human sensorium. They provide
movement
and
proportion
, which are the
primary variables
for all senses. Digital devices provide
numbers
, which are an indirect connection via culturally dependent training. Focusing on numbers pulls you away from common
sense
. I'd been using a Chinese digital voltmeter. It has two features that can't be beat by
affordable
analog gadgets: a frequency-reading scale and a capacitor scale. I'll keep it around for those rather rare purposes. After two years of steady use the Chinese gadget is already getting shaky. The switch doesn't hold a setting. Went looking for analog VOMs on Ebay; noticed that Triplett and Simpson VOMs are both popular, and Simpson brings MUCH higher prices for some reason. Bought this Triplett 630 VOM: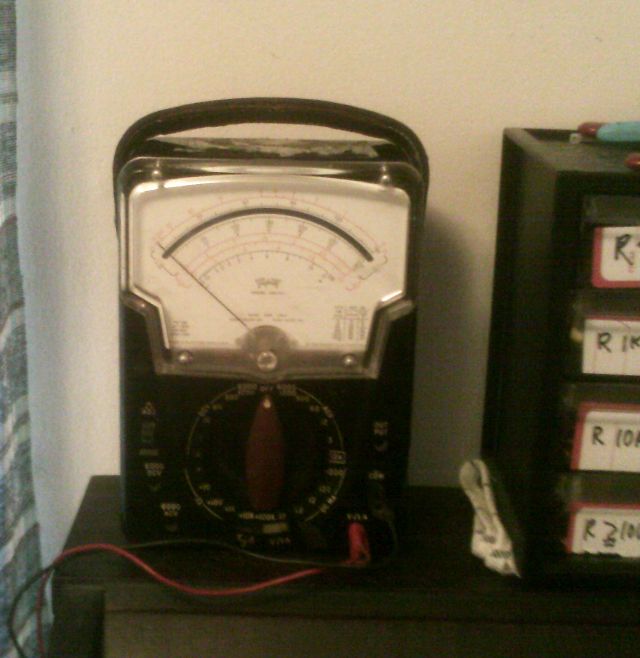 This meter is BIG. Comparing it with the digital Chinese meter: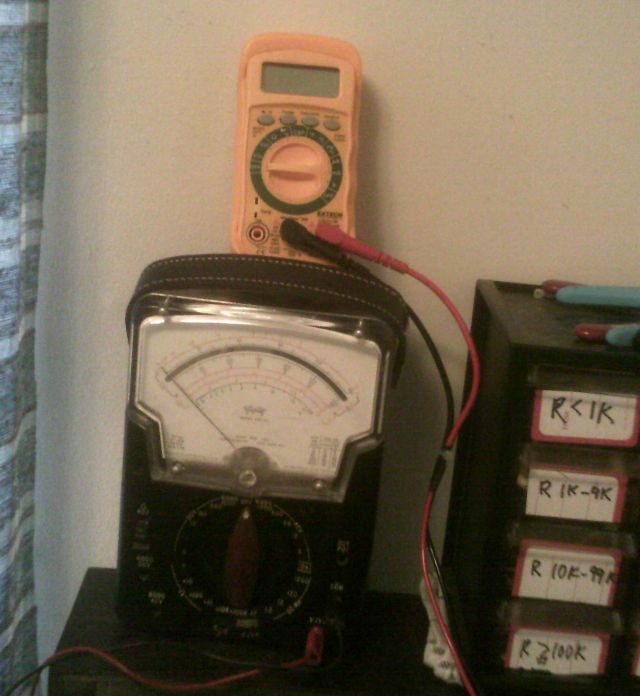 Works nicely after replacing the 30 volt battery for ohms. (I didn't know 30 v batteries existed!) Internally: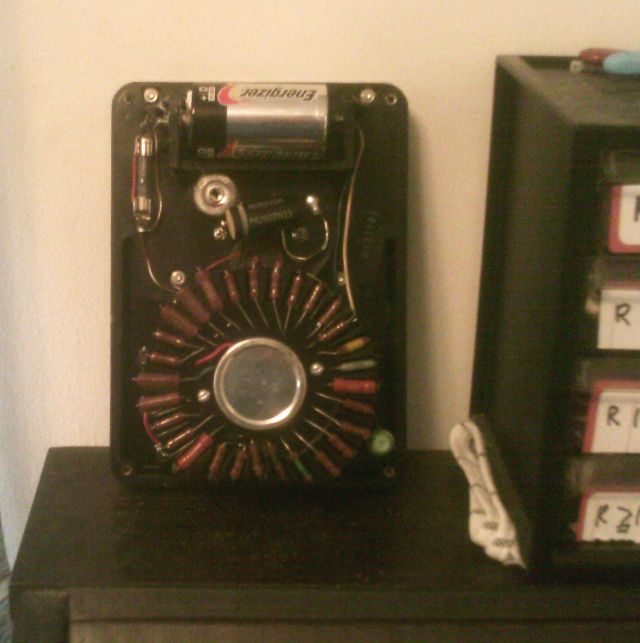 (The 30v batt is behind the D-cell.) Note the beautiful craftsmanship. Every wire is straight and carefully routed, all solder joints are gem-like. One resistor appears to be burned. If I'm reading the
manual
right, it's R27, listed as
0.1972 ohms.
That's PRECISION. It doesn't affect any of the ranges I use, so I'm not going to
ruin the beauty
by trying to replace it. Best part of this meter doesn't show in the picture. The rotary switch has a FEEL that I've never experienced before. Smooth and solid. The plugs and cables and clips are equally smooth and solid, even after several decades. = = = = = In the auto world, some good American cars live a long second life in Russia and Argentina and Brazil. In electronics Russia is the parallel universe for tubes. For analog test equipment, the parallel universe is right here in America. Triplett and Simpson 'classic' VOMs never went out of production. You can still get new Triplett 630s and Simpson 260s. It's not clear from websites whether the newly made 'classics' are assembled in America.
Triplett
is now part of Jewell Instruments, and
Simpson
is unexpectedly run by the Chippewa tribe in Wisconsin.
Labels: defensible spaces, Metrology, Patient things, skill-estate