Language update for Sept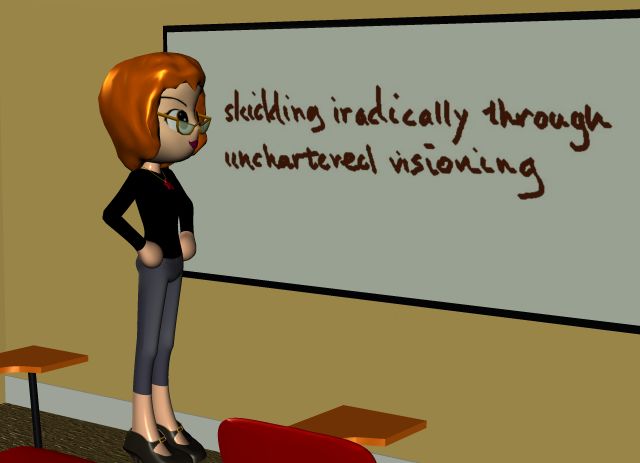 Professor Polistra has been lagging in her duty. This month's bucket of wordpoop is larger than usual...... = = = = =
Dons, sports:
Older words meaning 'wear' or 'put on'. Both are overused and misused lately.
Alleged Spokane bank robber dons "100% outlaw" neck tattoo
You can't don a tattoo because you can't doff a tattoo. You simply HAVE a tattoo.
Paul Ryan, sporting no tie or jacket,
You can't sport the LACK of a clothing item. Sport means something like 'wear with a boastful or playful intent'. = = = = =
Cyber:
The prefix
cyber
is quickly spreading. Cyberwar, cyberterrorism,cyberthreats, cyberattacks. The original complete word has completely disappeared. Cybernetics sounds unfamiliar and foreign now. Cybernetics originally denoted
analog
artificial intelligence as in neural networks, which led ultimately to Tesla's killer robocar. But we don't use the cyber prefix in the analog AI context. We use it for aggressive or fraudulent actions in the naturally
digital
side of computing, the side that replaced paper filing cabinets and adding machines. Originally this bookkeeperish side of computing was called informatics. But! The modern use echoes the old in one way.
Cybernetics
was
especially popular
among Russian researchers in the '50s and '60s. Now we use
cyber
to denote RUSSIANAGGRESSION attacks. All attacks are committed by RUSSIANAGGRESSION. Attacks not committed by RUSSIANAGGRESSION are doubleplusunpossible and doubleplusunthink. The Empire says it, I believe it, that settles it. = = = = =
Skidding:
A nice 'private spelling' by a
Spokane-News
page correspondent:
We also have this mom boxer looking dog wondering around the construction workers all morning, I've been trying to catch her, but she's skidding, white patch on her nose. No collar or tags.
Makes sense.
Skittish
doesn't correspond to any current verb or noun. A dog in that mood is skidding away from you when you approach.
Wondering
also makes sense in context. And another:
Has anyone seen a Monte Carlo? Beautiful silver color. Nice wheels, I don't know the year. Person driving iradically, 30s bald, stocky build.
Iradicals are dangerous just like radicals. = = = = =
Visioning:
From
here
:
You are invited to participate in a community visioning open house to help shape urban designs at the confluence of innovation, discovery, entrepreneurship, scholarship and neighborhood engagement.
Professor Polistra finds nothing wronging with verbing nounings, but this verbing makings no sensing and addings no meaninging. The rest of the sentence is equally empty buzzwordings, so can't judge anything by contexting. = = = = =
Unchartered:
Tweet from Sam Shuster: Dem operative: @HillaryClinton #BasketOfDeplorables, hiding pneumonia for 3 days, + fainting video = "unchartered political territory."
Nearly universal replacement for
uncharted.
No linguistic reason for this, just elite comfort zone. Elites can't and won't read charts, and won't allow TROLL to use charts, but they fly without charge on chartered jets every day.
Labels: #DeplorableLivesMatter, Language update