It's the FUTURE now!
A bunch of CRETINS have finished living for a year in a "Mars simulation". They did a bunch of technical stuff inside a building, which could just as well have been a city office building. They had strictly limited communication with the outside, ate only prepackaged meals, and went out sometimes and climbed hills while dressed in a spacesuit. This isn't a Mars simulation, it's just nerd life. What made it "scientific"? I guess it was the building. A Bucky dome. Everyone knows that Bucky = FUTURE UTOPIA. They should have completed the picture by cruising around in a Dymaxion Car, the absolute ultimate in FUTURE UTOPIA.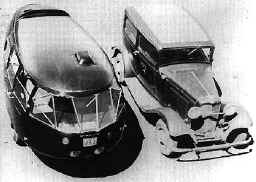 A Ford flathead V-8 with unsync'd transmission, powering a totally unbalanced three-wheeled chassis designed to tip over when turned. Perfect for exploring perfectly flat and straight city streets at 10 MPH. Later nerdy thought: The weight efficiency of a Bucky dome is actually LESS necessary on Mars. Because things weigh about half of Earth weight, you could get away with sloppier and heavier construction using local stones. Mars has lots of nice rectangular stones laying around, which would be comparatively easier to lift.