Shimmering maps
Orwell based Newspeak on a rather narrow and specific set of distortions by Soviets. Pravda wasn't truth, Izvestia wasn't news, and the Democratic Peoples Republic of Whateveristan certainly wasn't democratic (whatever the fuck that means). He stretched the idea for a good story, but didn't come anywhere near the universal
shimmering
distortions and inversals and convolutions of modern EU/UK/US. = = = = = Symbolic representations ... maps and blueprints and diagrams ... are useful for (1) exploring new territory (2) building things (3) storing explorations and experimental results for later use. Cartographers and architects understand these three purposes systematically and deeply. Electronic techs who use schematics understand 2 and 3 strongly but probably don't think much about 1. To serve these purposes, symbolic representations need to be STABLE, MUTUALLY UNDERSTANDABLE, and UNAMBIGUOUS. All of these needs are thoroughly trashed by Newthink and Newspeak. You can spot the trashing on any randomly chosen Tumblr page. (1) STABLE: It's 2015 yo! (2) MUTUALLY UNDERSTANDABLE: It's a black thing. You wouldn't understand. (3) UNAMBIGUOUS: Sick beat yo. All three purposes and all three requirements apply to words as well, though we don't typically think of words this way. Words can be used to explore new mental territory. Words can form a contract with a builder; or legislation that instructs cops; or a judge's instructions to a jury. Words can store your new ideas or the jury's verdict. To perform these functions, words must be broadly stable so that a neologism can be understood in context, and so a contract or a law will continue to make sense next year. Words must be mutually understandable and unambiguous so the readers or the jury or the police know what the author or legislature intended. Professor Polistra and friends illustrate the use of a STABLE and UNDERSTANDABLE and UNAMBIGUOUS diagram. A schematic is probably the most universal form of communication, free of all national or cultural 'dialects'. Danbo and Happystar are learning to match the schematic symbols with the actual components on the printed circuit board.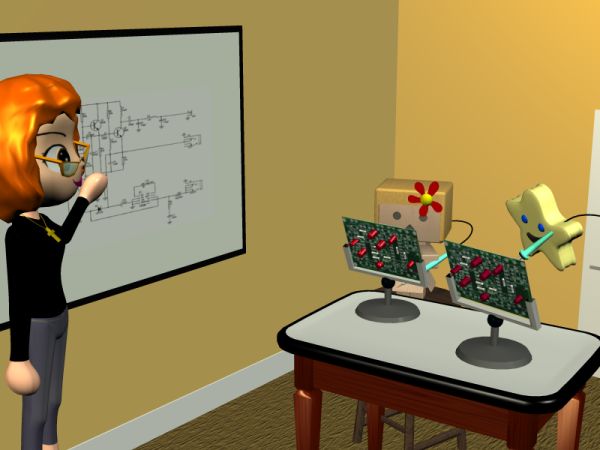 Whoops ... Looks like Prof Polistra is due for a
Contract Revision
soon.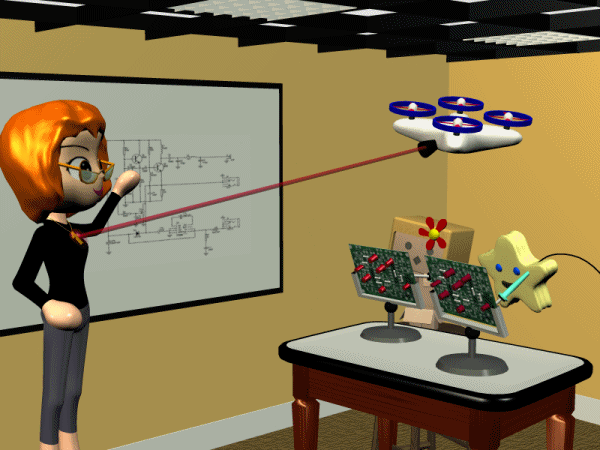 Revision accomplished. Happystar and Danbo are not happy with the new Substitute Teacher. It doesn't matter if Polistra is happy or not. She has been Revised.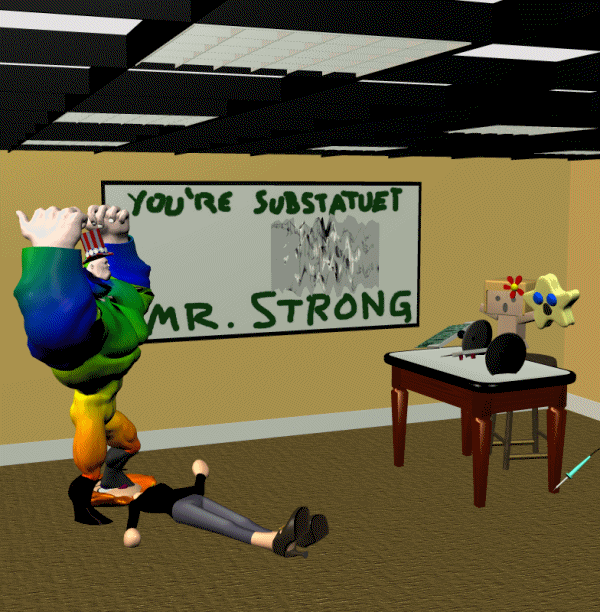 In the new world nothing is stable. Everything is shimmering, wiggling, switching places. Words, diagrams, facts, categories, all shimmering, all transforming. Only one thing is constant:
The sound of a jackboot. STOMPING on a human face. Forever.
= = = = = = = = = = = = = A day later: Some egregious academic has developed a "language" called Toki Pona that forms the PERFECT vehicle for the modern O'Briens. It violates all three requirements by definition. Toki Pona has only 123 lexemes, requiring each talker to make up long periphrastic combinations to say anything useful. Everyone's metaphors will be different all the time. No stability, no mutual comprehension, total ambiguity. In a sane society this would just be completely and totally useless, but in today's US/UK/EU STRONG it will be an ideal tool. Your version of a sentence will always disagree with the official version as of this picosecond, UNLESS you have privileged access to the official way of thinking.
Labels: 20th century Dark Age, Language update, STRONG!