Why did Stalin turn against us 2
I just put something together. I don't know if this result is
the
truth, but it certainly makes more sense than any other interpretation of the full set of events.
In 2010 I wrote this:
= = = = = START REPRINT:
Polistra has been wondering why Stalin put so much effort into subverting the US after WW2.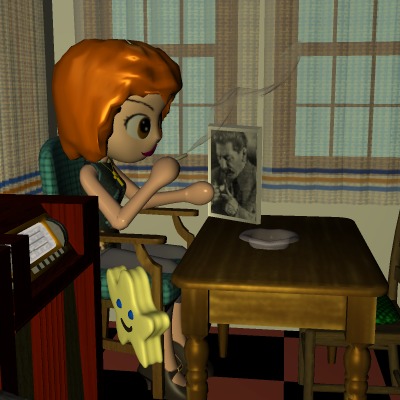 From our side it didn't make sense; we had been working in partnership with Russia in the war, and our people had tremendous sympathy for the Russian people who had borne the brunt of defeating Hitler. (One of five Russians died, one of five Russian towns was destroyed.) The Marshall Plan could have helped Russia recover, but Stalin chose instead to make us an enemy.
Surely old Joe didn't expect to fully Sovietize America in his lifetime. He also remembered from 1920's experience that a big socialist economy can't stay alive unless some big capitalist economies remain in other countries, to provide surplus food in emergencies and fancy goodies for the nomenklatura. Unlike today's idiotic American commie rulers, Joe didn't believe his own propaganda. Given all those certainties, what the hell was he trying to do?
A newly available radio series offers a possible answer.
War Telescope,
now available at OtrCat.com, was a series of 15-minute programs on NBC, aired weekly through the war years, hosted by Elmer Peterson and Morgan Beatty. All of the segments provide a mix of insight into wartime life and speculation about the coming peace. Many of these insights have been lost in current thinking.
"A European View of the War", aired 2/26/44, may contain the answer to the Stalin puzzle. It focuses on the diplomatic community in Europe, who considered America to be an unstable and unreliable ally. [
Robert Parker's 1944 book
echoes these concerns.] Our
military
had saved Europe's ass in WW1 and WW2, but before and between the wars our
government
had failed to form an intelligent and coherent foreign policy. Would we hold steady after this war, helping the other Allies to conclusively and decisively punish Germany? Or would our financiers and industrialists fall back to their natural preference for Germany, carrying Congress with them as they had done in the 1930s?
From this angle it's easy to see why Stalin wanted to have a firm hand on American policy, wanted to insure that the United Nations Organization served Russia more than America. From this angle,
letting America return to normal
meant
letting Germany return to power
. It wasn't mainly about Communism; it was mainly about Russian and European national interest.
= = = = = END REPRINT.
Now, after
comparing
the 1944 cartoon
Краденое солнце
and the current cartoon series
Маша и Медведь,
I suddenly see a larger picture. [Note: The alligator in Краденое солнце was unquestionably Germany. I don't know if Masha is
consciously
intended to represent America, but her destructive behavior and the bear's sane response form a perfect metaphor in any case.] Larger picture: Preventing America from linking with a resurgent Germany may have been part of the bear's purpose, but the MAIN purpose of the Cold War was to prevent America from
BECOMING
the next resurgent Germany. What actually happened
during
the Cold War? America didn't start any wars. We got involved in Korea and Vietnam, where we were fighting against China while fooling ourselves into thinking we were fighting Russia. Thus we were serving Russia's purposes. Keeping China occupied and keeping ourselves weak.
Both sides
were fomenting coups to develop proxy dictators in various third-world countries, but those coups were quick and led to increased stability, not to permanent chaos. What actually happened
after
the Cold War? Exactly what the bear had feared, and exactly what the bear had been preventing. We are now Imperial Germany and Imperial Japan, starting wars around the world (but especially around Russia!) for no rational or national purpose. Some of these wars serve Israel's purposes, some are just pure blood-fetish. We are pure violence, pure crime. The bear was right. = = = = = Update one week later:
The bear has awakened from hibernation.
Labels: Гром победы