Hibernation over, mofo. Hibernation OVER.
The bear has awakened. After a few years of patient tolerance as
USA STRONG
mindlessly rips the world to bloody shreds, Putin has finally
filled out his side of the chessboard.
"By the way, I am constantly surprised that our Western partners make the same mistake over and over again. They once sponsored Islamist extremists that had fought in Afghanistan to fight the Soviet Union. Taliban and al-Qaeda originated from these [extremist] movements." "No one wanted to listen to us and no one wanted to talk to us. Instead of a difficult but, I underline, civilised dialogue they brought about a state coup. They pushed [Ukraine] into chaos, economic and social collapse, and civil war with huge losses." "Russia is self-sufficient."
I'm tempted to say "About fucking time", but I'm not the one to say it.
I trust Nature's laws.
Putin is acting in alignment with the natural (and civilized)
rules of fighting,
which require a considerable amount of growling and posturing before the first bite.
"Unfortunately, there are neither guarantees nor assurances that the existing system of global and regional security will be capable of safeguarding us from upheavals."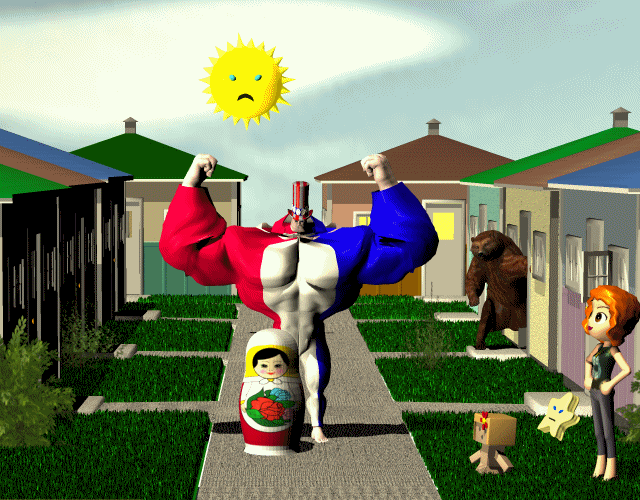 USA STRONG, you been growled at. You will not listen. You will continue to be an unspeakably violent bully. You will continue turning the world into a bloody mush. You will continue shooting your own cops and deifying your own thugs. You will continue printing infinite amounts of nominal money and handing it to the super-rich while moving all productive activity to China. (I do not write in conditionals and subjunctives and 'shoulds'. Those verb forms are
extinct
in USA STRONG land.)
"The bear is considered the owner of the Taiga, but he, I know for a fact, does not want to go to a different climatic zone, as it is uncomfortable for him there. However, he will not give it to anyone else; I think that this should be clear."
Alligator
wasn't ready when Bear awakened. Will USA STRONG be ready? No. Bullies are
never ready
for resistance. Bullies have an
infinite ego
which contains ... or so they think ... the entire universe.
Labels: Grand Blueprint, STRONG!, Гром победы