Hard nails, soft motors
As I've grown old and fat and stiff, cutting toenails has become more difficult. When I was young and supple (and my nails were also more supple!) I could pop into a lotus position and snip neatly with scissors or clippers. Now I try various tricks with diagonal cutters and files, but nothing works properly. The wire-cutter either cuts nothing; cuts down behind the skin, guaranteeing ingrow; or cuts the skin. Flat files are hard to use on just one toe. Finally found the solution. This little super-cheap Chinese crap tool. About ten dollars on Ebay.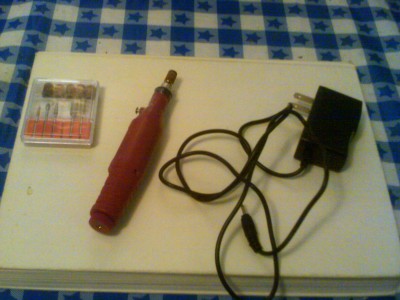 It's sort of like a junior version of a Dremel tool, but much weaker and slower.
The weak motor is the key to its success,
oddly enough. Just run the sander back and forth along the edge of each nail with a light touch, and it takes the nails down to a proper length and smoothness. Time 5 to 10 seconds per toe. No chance of damaging the skin; the small sander always stays on the target toe; and the weak motor stops when you dig a bit too deep. Foolproof and cootproof. The only negative is that the process sounds and smells a lot like dentistry... but that's minor compared to the benefit. Soft motors can be an elegant solution. The old vacuum-powered windshield wipers had a similar self-limiting quality. In a light rain the wipers would wipe when there was enough rain to slide on, and would stop when (or where) the glass was dry. You couldn't burn out the motor or blow a fuse by turning the knob when the wipers were frozen. No software or interrupting timer needed; just mechanical self-regulation. [Not the manifold-vacuum wipers. Those were purely useless. I'm talking about wipers powered by a diaphragm piggybacked on the fuel pump.]
Labels: coot-proofing, new toy