Where's Upton Sinclair when you need him?
The DC lunatics are at work again.
The annual ritual of assembling The Farm Bill has come disassembled, which may lead to an accidental repeal of current milk subsidy regulations. Repeal is usually desirable but not in this case. (The modern rule, of course, is perfectly consistent.
Every action by DC will smash America.
If a new law will smash the country more effectively, make a new law. If repeal will smash the country more effectively, repeal.) Specifically, the milk policy will revert to a 1949 version designed for a time when dairy producers needed help. The 1949 policy requires the Feds to purchase any and all dairy products offered, at a price which automatically adjusts for inflation. This price is double the current milk subsidy. Dairies will find this offer irresistibly attractive, which means much less milk will find its way to the free market, and market prices will leap upward. Agricultural subsidies, properly planned with proper feedback, are an extremely good thing. Offering a
minimal base price
can keep farms and dairies running in times when the market is glutted or demand is low. It's crucial to keep good farms running because a farm is NOT the sort of business you can start anywhere and anytime. The best farms are long-lasting family operations, passing on carefully maintained land and skills and seeds and livestock. Too many good farms inevitably fail for natural reasons like drought or death. It's
unforgivable
to let good farms be destroyed by foreign fussiness or traitorous speculators. But a subsidy that suddenly doubles the price in a fairly balanced market is perfectly destructive. High-priced milk means malnourished kids.
This happened in the 1920s
when brief government wartime purchases followed by postwar inflation caused high-priced milk and eggs. Poor urban families, who were mainly immigrants at that time, stopped buying milk.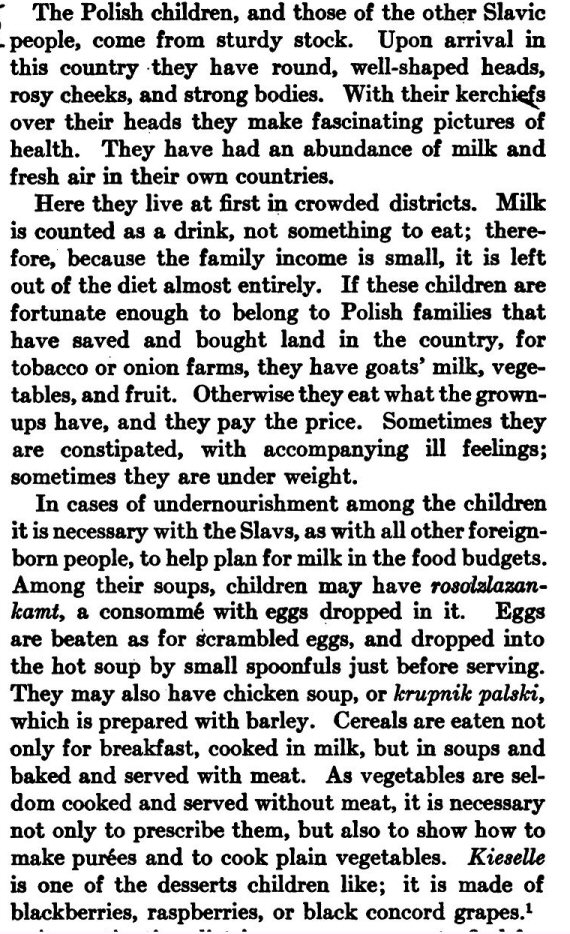 Incidentally 1: The name for Polish egg-drop soup,
rosolzlazankamt
, is delightfully clattery but has to be a bad transcription. The amt at the end must be ami, the Slavic instrumental plural. Thus the phrase is probably rosol z lazankami. Online translators are no help.
An 1896 German-Polish dictionary with a focus on food
partly solves the problem. Rosół is one word for soup, so rosół z łazankami is soup with łazanki. Łazanki is translated as Nudelteigfleckchen, an equally clattery word that seems to mean little pieces of pasta. All of that clatter for plain old Noodle Soup? Aw come on. Both words have diminutive endings (ka and chen) implying that these particular bits of pasta are cherished; but I can't go beyond the dictionary. Incidentally 2: The 1920 essay on immigrant nutrition recognizes the benefits of what we now call the Mediterranean Diet.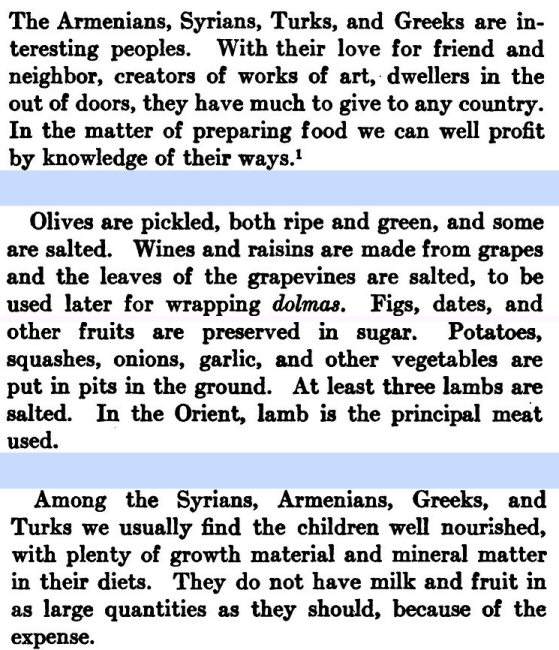 Later, on a hunch: Łazanka doesn't seem to have any relatives in Polish but it sounds a lot like lasagna. Checking etymology for lasagna:
from Vulgar Latin *lasania, from Latin lasanum "a pot," from Greek lasanon "pot with feet, trivet."
That's got to be it. Roman missionaries carried the food and its word to Poland, where it settled down and grew a diminutive ending.
Labels: 20th century Dark Age, Turkey