Wide stance
The worst thing about these scandals is not what happens after the revelation, the predictable circus of prurient chortling from the left and prurient smarminess from the right.
The worst thing is what happens before the revelation. It's hardly news that living a secret life guarantees blackmail; yet for some reason our elite classes have forgotten this basic fact of human nature.
I remembered mentioning Craig once here ...
looking back,
I find that I was disgusted by his surrender to the ACLU on the important point of Patriot Act wiretapping. Now the reason for the surrender is obvious. If Larry Craig hadn't been living a secret dirty life, there would have been one more firm supporter of the Patriot Act.
= = = = =
Back to basics: What was the key to America's success, back in the days when it did succeed? Not freedom, though a certain amount of well-placed freedom was important. Not capitalism, though a certain amount of well-regulated capitalism was important. Not education: very few of our best innovators and leaders finished high school, let alone Harvard. No, what made us work was a dense web of 'mediating organizations', well described by Tocqueville.
Every trade had its informal and unofficial guild, which dispensed both carrots and sticks. Every religion had not only churches but social groupings, and every race and ethnic group had lodges. The guild usually served as a mutual assistance organization, taking in rather hefty dues and providing various forms of insurance and help for members. In return, it required ethical and professional behavior. You were supposed to be a positive example to the public, and you were expected to listen to the advice of older members and help develop younger members.
My working life came largely after guilds had turned obsolete, but I was involved in one such organization for a while. Radio amateurs were ably represented by the
ARRL (American Radio Relay League).
The ARRL took care of testing and training young amateurs in both electronics and ethical practice; it 'defrocked' hams who violated the norms; and it organized hams for emergency service in disaster situations. All of those functions were quasi-governmental, and the FCC happily allowed ARRL to perform them.
After 40 years of inattention, I still remember looking up to the ARRL with a sense of grandeur, and I remember the solid pleasure of being supported
and
shaped by a benevolent association.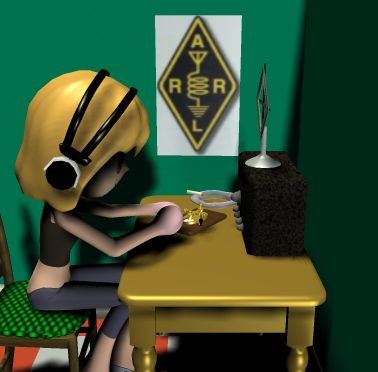 ARRL's symbol nicely expresses the function of any guild. The antenna at the top picks up new signals; the tuning coil in the middle keeps the signals within a narrow bandwidth where they can be useful; and the ground at the bottom provides both a standard of reference and a place to dump unwanted signals.
I haven't been in touch with the whole subject for many years, so I presume the ARRL still exists but is no longer allowed to interfere with FEMA's all-encompassing and all-destroying incompetence.
Since Lenin began his grand takeover in 1920, the government has grabbed both the welfare and social enforcement functions, and most guilds were unfortunately willing to let it happen. Now trade associations no longer mediate between the members and the public at large; they only serve to lobby for more federal subsidies and special exemptions to all-encompassing and all-destroying regulations.
Legislators and judges, operating under anti-discrimination statutes, have snatched away the internal regulation functions of guilds. Every aspect of behavior is now subject to pure governmental force. We no longer walk in harness; we no longer sense the gentle rein-pull of our associations or churches; we just careen and skid through life, waiting for the random and arbitrary arrest, which may or may not bear any connection to a genuinely bad act.
Kafka wins.
And what was the guild for legislators? Political parties formerly served the mediating functions of a guild. Filtered out bad apples
before
the arrest and scandal went public; dispensed favors to loyal voters; developed young candidates. Now, thanks to 70 years of "reforms", they only gather money and buy advertising. But how can we do without advertising? Well, advertising wasn't quite so important when the candidates were better men, and when loyalty was rewarded directly.