Which came first?
I like to be surprised by which-first questions, but this one was a true stunner. Which came first, LCD television or incandescent light bulbs? LCD television, by 5 years. Which came first, LCD television or motion pictures? LCD television, by 30 years. Which came first, television or telephone? LCD television, but probably too close to call. (heh) From British Practical Electronics,
June 68: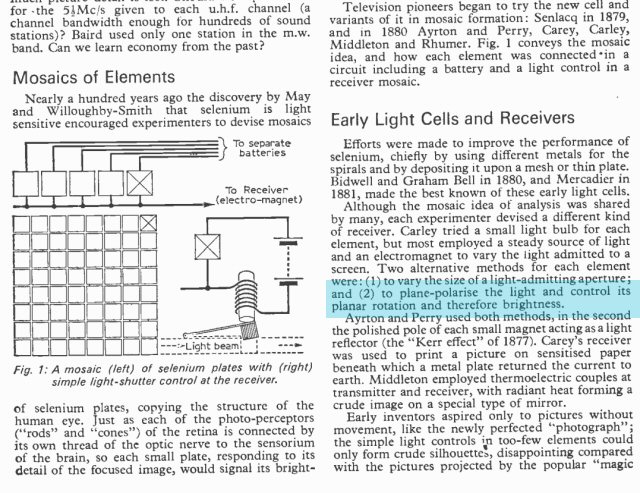 Note that the matrix was controlled by using the magnet to
rotate polarized light.
These developments were in the 1870-1877 range. Bell's telephone patent was 1876, Edison's incandescent was 1882. TV came first. Why didn't this development proceed? Mostly because of bandwidth. You'd need thousands of wires in parallel to carry a usable picture this way. Multiplex telegraphs were already practical, and in fact Bell was working on a frequency-based multiplexer when he
detoured
into the telephone. But higher frequencies, and precise sequencing of signals. had to wait for true electronics with tubes.
Labels: 1901, Alternate universe