Filmstrips
When I "build" a model of a large scene, I try to add interior details to one building. With the
Three Sands scene,
the school would naturally include some items I've been wanting to make. One of those items is the filmstrip projector....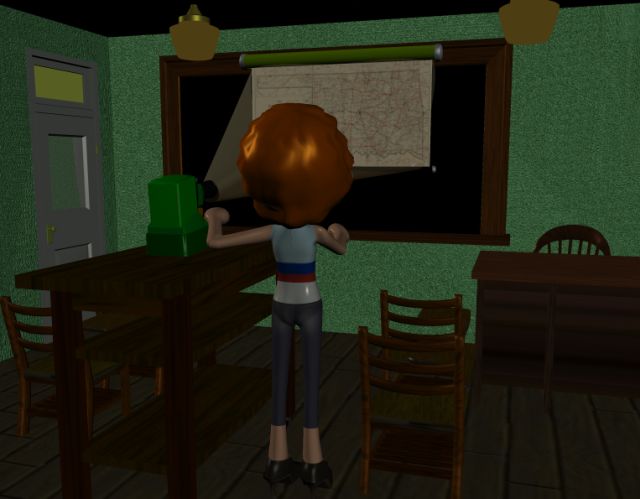 Filmstrips were an odd intermediate technology. They coexisted with slides and movies, so you'd wonder if there was any purpose for the in-between. Comparing with slides, the strip has all the advantages. Using a filmstrip in class was VASTLY easier than using slides. No need to carefully re-stack the slides, no need for the complicated back-and-forth action of the selector. Put the loose roll on top, feed it into the slot, engage the knob into the perforations, and start turning. The roll is much smaller and lighter than a box of slides. Comparing with movies, I'd think movies have most of the advantage. It's true that a movie projector is heavier and more complicated than the slide/filmstrip projector, but the advantage of motion and sound overrules everything else. A movie was easier on the teacher as well, unless she delegated an AV nerd to read the accompanying script and turn the strip. Despite that, filmstrips plus records were a mainstay of secondary school and college from the '30s through the '60s. The records sometimes had tones telling you when to advance the strip. I remember seeing a filmstrip of the Tacoma Narrows collapse in college. WHY not a movie? I assumed that nobody had filmed the event. If a movie existed, surely it would be shown in Physics class. Well, several movies of Galloping Gertie did exist, but I didn't see them until Youtube came along. Again WHY? = = = = = Later thought: In the digital world PowerPoint is an exact descendant of filmstrips. PPT remains popular despite options like SWF and digital movies, so there's clearly a permanent role for this intermediate style of presentation. The
rotator device
on many websites is also an exact copy of filmstrip action.
Labels: Patient things