Swinton, Verres, beer.
Assange spent some effort
in tracking down a quotation about the cynicism of the press. The original quote was badly misplaced in time and geography. The relevant quote from John Swinton, misdated to 1953 but actually written in 1880:
There is not one of you who dares to write your honest opinions, and if you did, you know beforehand that it would never appear in print. I am paid weekly for keeping my honest opinion out of the paper I am connected with. Others of you are paid similar salaries for similar things, and any of you who would be so foolish as to write honest opinions would be out on the streets looking for another job. If I allowed my honest opinions to appear in one issue of my paper, before twenty-four hours my occupation would be gone. The business of the journalist is to destroy the truth, to lie outright, to pervert, to vilify, to fawn at the feet of mammon, and to sell his country and his race for his daily bread. You know it and I know it, and what folly is this toasting an independent press?
Assange found
a long bio of John Swinton
including this:
Scottish born, he learned typesetting in Canada before moving to the United States. During the trouble in Kansas he was active in the freesoil movement and headed the Lawrence Republican. Moving back to New York he wrote an occasional article for the Times and was hired on a regular basis in 1860 as head of the editorial staff. Afterward holding this position throughout the Civil War, he left the paper in 1870 and became active in the labor struggles of the day. He later served eight years in the same position on the New York Sun and published a weekly labor sheet, John Swinton's Paper.
Looked in KSHS, which covers the details of Madman Lincoln's War pretty well. They have
one full copy
of the Lawrence Republican, from statehood day in 1861. At that time it was edited and published by John Speer and Verres Nicholas Smith. Nothing about Swinton. Tracing the unique name, found
an 1877 report from Kans State Board of Ag, giving the history of the paper.
[This is an amazing book! It includes a history and current description of all the major cities in Kansas, and some beautiful maps.] The history of Speer and Smith and the Lawrence Republican: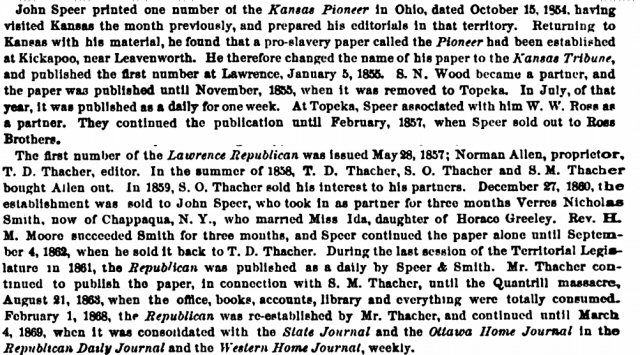 Sounds like old Verres had an eye for opportunities. As Greeley said, "Go west, young man, then come back and marry my daughter." Still nothing about Swinton or Swindon. He may have written for the paper, but he wasn't an editor or publisher. Major question: If Swinton was actually there, did he leave because he realized that he was
serving rich Yankees?
Or was he fooled by the whole "abolition" crap? Madman Lincoln's War was designed to replace the older version of slavery, which gave lifetime security and family support to the slave, with Yankee industrial slavery that offered the freedom to starve. Some of Swinton's quotes indicate an understanding of Yankee exploitation, but not in the specific context of Lincoln's war to increase the share value of his railroad baron bosses. = = = = = Returning to the maps, here's Riley County: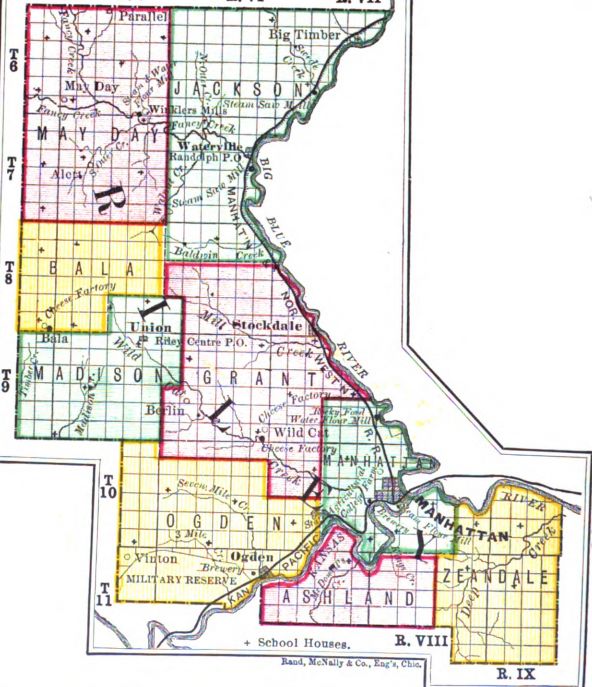 A closeup around Manhattan shows a steam flour mill at
Temple Lane,
and a
brewery
at the original Polistra townsite!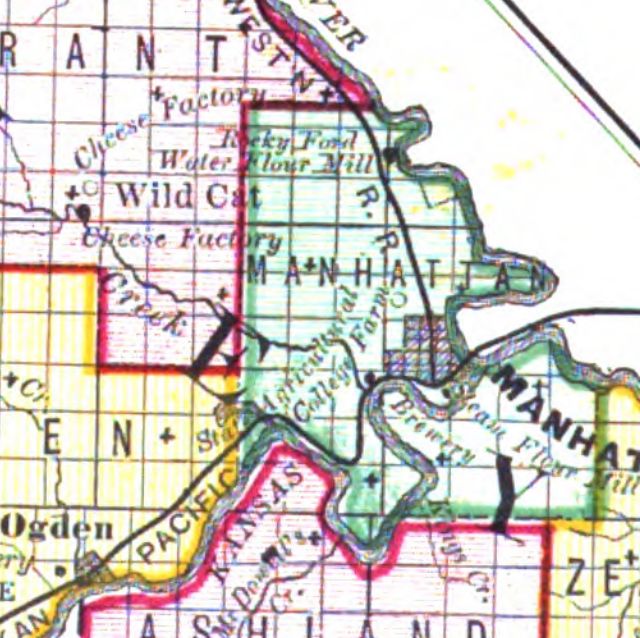 Should I rename the blog? No, a brewery would probably include a barley mill, so the name is narrowly correct despite the
wrong location.
Here's
a picture of the brewery.