Anderson's manifesto
Following up on
this post
and innumerable others on the same general subject... Trying to disentangle the strands of education (Manual Training vs Theorize & Memorize) and politics (Sanity vs Chaos). Some help from a history of K-State written in 1902. (From
Kansas State Hist Soc,
p 174 of the PDF.) Growing up in Manhattan, and living across the street from the Goodnow House at a time when it was still occupied by a Goodnow descendant, I
thought
I understood the story, but I'd never read these details before. Highly illuminating. Briefly: The anti-southern-slavery** wackos who settled Manhattan came from Mass and Conn. The Mass contingent were Methodists and
Grahamites
who had been recruited at
Wesleyan Academy in Wilbraham.
Isaac Goodnow and Joseph Denison were major players in that group. Goodnow is generally credited with founding KSU, but it was actually a team IPO. Goodnow, acting as a venture capitalist, organized Bluemont College as a Methodist school with Denison as headmaster, hoping to sell the facility to the newly formed state government. When the gov't hesitated, Goodnow moved into political positions where he was able to maneuver the sale. After that, Goodnow played politics for a while then settled into real estate. Though nominally a land-grant college and nominally devoted to agriculture and mechanics, K-State remained a Methodist liberal-arts school from its formation in 1859 until about 1873. At that point farmers, feeling their political hard red Wheaties through the Grange movement, wanted the college to fulfill its
assigned mission
of training farmers and performing ag research. The Grangers placed new members on the board and overthrew the old leadership. Their newly appointed president, John Anderson, laid out his project in the 1874 college handbook: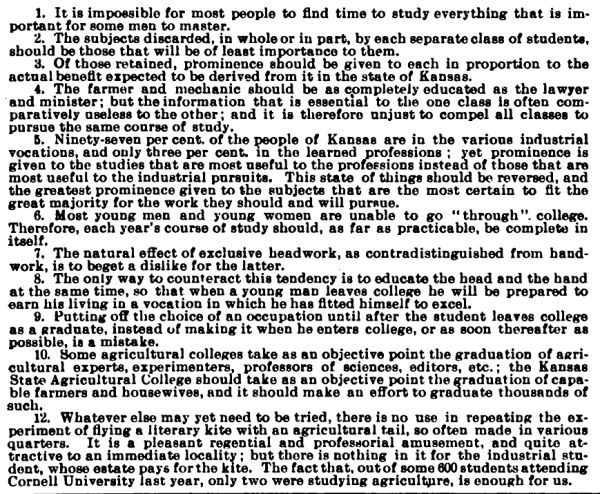 A magnificent manifesto. Pulling the last paragraph out of the image just because I want to savor its delicious prose and perfect truth: "Whatever else may yet need to be tried, there is no use in repeating the experiment of flying a literary kite with an agricultural tail, so often made in various quarters. It is a pleasant regential and professorial amusement, and quite attractive to an immediate locality; but there is nothing in it for the industrial student, whose estate pays for the kite." Anderson turned the school in the proper direction, though not ideally or completely. It continued to provide real education until the 1950s, when social pressure from accreditors and other colleges overwhelmed rationality, and it returned to the useless Theorize & Memorize model. The Grange connection helps me to solve the question I
asked last week:
Why do conservatives love T & M, which belongs solidly and consistently to Lenin and Satan? Why do conservatives hate Manual Training, which belongs solidly and consistently to traditional morality and traditional thinking? Perhaps because Manual Training became associated with the Grange and Populists, who are (falsely) considered to be left-wing. Feels like an inadequate answer, but might be one piece of a larger connection. [Later:
a more satisfactory answer.
] = = = = = ** Footnote: I emphasize anti-
southern
-slavery because the Kansas expedition was financed by
textile factory owners
who wanted to see the West adopt their profitable form of
northern
industrial slavery, not
southern
agricultural slavery. In the end Bloodthirsty Madman Lincoln gave them what they wanted (along with 600,000 completely unnecessary deaths), but it didn't work out to their benefit. They forgot, as Yankee dickheads always do, that humans are not identical. Westerners moved west specifically because they were too ornery and loose to geehaw with
either
form of slavery.
Labels: Experiential education, skill-estate