Bring Back St Martin!
Inspired by a wonderful picture in the
Medieval Manuscripts blog.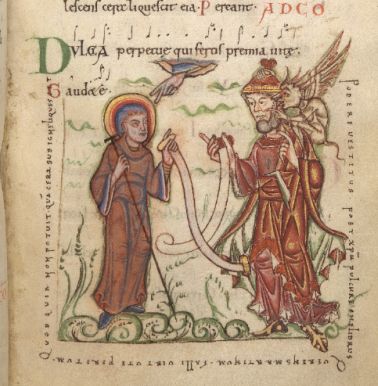 Caption: St Martin identifying a devil trying to disguise himself as Christ The devil in question, of course, is Antichrist Bergoglio. Lately he has been working specifically to banish Christians from the "Church" he misrules.
This news item
comes from Nigeria, where Christians are REAL Christians. One tribe in Nigeria has a solid record of Catholic Christianity:
The Mbaise are among the most Catholic of Nigerian peoples – 77 percent of the diocese's population of 670,000 are Catholic. Nearby dioceses range between 19 and 70 percent Catholic. Families in the rural diocese foster priestly and religious vocations, with at least 167 priestly ordinations for the diocese since its establishment in 1987. With such a wealth of priests, the Ahiara diocese sends many as missionaries to Western countries, and many Mbaise hoped that one of its own would become their bishop.
Not just firmly Christian; powerful enough to evangelize the Northern heathen. An actual Pope of the actual Catholic Church would be MORE THAN HAPPY to oblige the wishes of the BEST AND HIGHEST QUALITY BELIEVERS within the church. Not Antichrist. He appointed an outsider to serve as spy and mole. The Mbaise rejected the outside saboteur, and now Antichrist is giving the CHRISTIANS an ultimatum. If you don't accept the saboteur, you are in mortal sin. Next move is up to the Christians. Do they recognize the devil and reject his orders? I'm praying for them.