Revolving tipi
Today's version of Injun Power:
A group representing 40 native Alaskan tribes has severely criticized US President Donald Trump's new executive order that paves the way for oil drilling in the Arctic. On Friday, Trump signed an executive order aimed at reducing restrictions on oil drilling in the Arctic and Atlantic... The order ... would reverse drilling bans put in place by Barack Obama last year. The Bering Sea Elders Group, which represents 40 of Alaska's coastal tribes, released a statement slamming Trump's order, saying it removes their say in what the federal government does with the waters they rely on for food.
First, of course, we have the
standard modern lunacy.
Obama signed this order at the last minute. Obama's order NEVER DID ANYTHING, so Trump is just removing an EMPTY order and restoring things to the way they were before the one day when these midnight orders existed. Trump's order is EQUALLY EMPTY because it's undoing something that WASN'T DONE. How come the Elders weren't bothered by this condition during the 7 years and 364 days of Obama's administration when this condition existed, or the many years before then? How does one day of an order, which never actually goes into effect, establish a long tradition of sovereignty? This is nothing more than bigotry. The status quo was OK when it was owned by a Democrat, but automatically became NOT OK when it was owned by the KKK hologram of "Trump". = = = = = Now let's compare with an earlier version of Redskin Power. In 1933 an international conference tried to settle radio frequency allocations among various countries. Lots of US interests were involved, so lots of US interests sent lobbyists to represent their interests. You can call it corruption if you're a technocrat, but it's just plain democracy in action. One major player in American radio was JR Brinkley, the Goat Gland Doctor. He had been running a powerful radio station in Kansas until the FCC clamped down on his dubious medical claims. He had moved across the border to Mexico, where he set up a 500KW transmitter that reached most of America, and continued running his popular programs and his dubious clinic. Another important Kansan was Charles Curtis, who was
both a Kansan and a Kansa.
He was Hoover's VP, so his bully power was still strong in 1933. Curtis went to the international conference representing Brinkley.........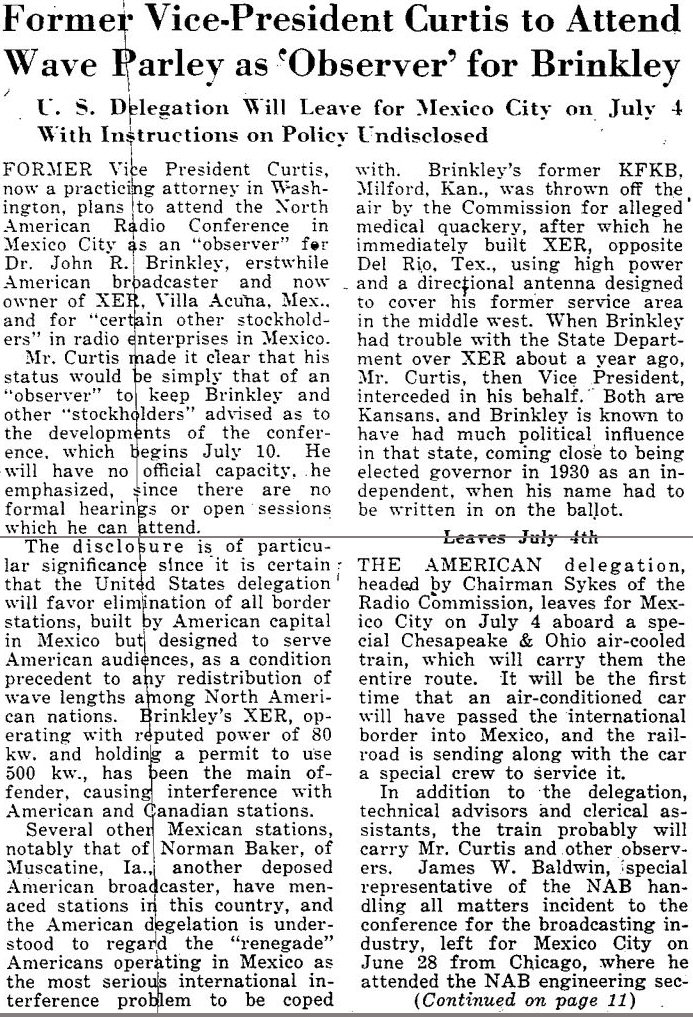 In other words, Curtis was a normal AMERICAN politician, helping a constituent from HIS STATE and undoubtedly getting a nice kickback. He was SANELY attempting to prevent a REAL CHANGE that would do REAL DAMAGE to HIS STATE. Curtis succeeded in allowing high-power stations, and many such Mexican stations continued into the 1960s. It didn't help Brinkley specifically; the US gov't soon pushed Mexico to shut him down, and he moved back to Texas where courts finally caught up with him.