Language update for Dec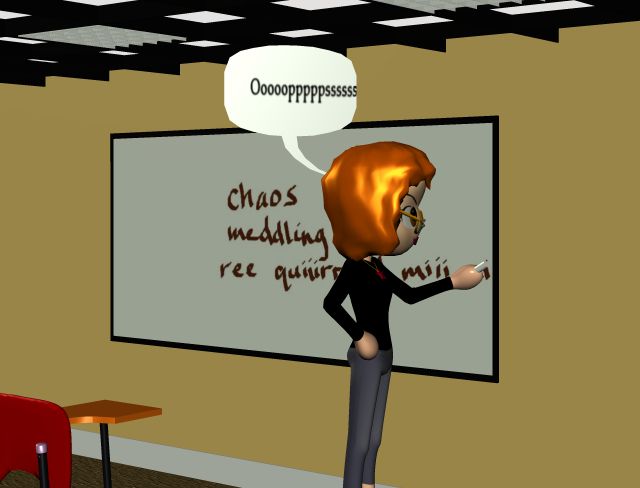 Professor Polistra brings a rather sparse bucket of annoying or tyrannical words.... = = = = =
Feature:
In an
article
on "archeological work" to find more about primitive artist James Castle:
"We found darker soil in one corner," said Caroline Herritt, currently in her second year of graduate school at the University of Idaho. "That might mean there is some feature we haven't found yet. We have to keep going to find out."
Feature = poop. = = = = =
Fimular:
From Spokane-News facebook page:
Not a very good picture but look fimular to anyone?
Nice portmanteau. Similar + familiar. = = = = =
Amazing:
Way overused by techbullies, with a scary flavor.
An article
about a techbully who is too psychopathic to deal with the totally permissive NHTSA rules that encourage autonomous pedestrian-squashers.
But early Friday morning, Hotz tweeted that Comma.ai would be canceling the Comma One after an inquiry from the federal government. The National Highway Traffic Safety Association told Hotz it was concerned that his product was a safety risk, and wanted proof it was safe. If Hotz didn't comply, he would risk fines up to $21,000 a day. "Would much rather spend my life building amazing tech than dealing with regulators and lawyers. It isn't worth it," Hotz tweeted.
He's getting the VIP treatment from regulators, and it's still not amazing enough. Fucker. = = = = =
Meddling:
This is a new innovation in Newspeak. Meddling in an election means "providing information about the Empire's candidate." Before this new innovation, providing information about ANY candidate was described as news. Now it's
meddling
if the information tends to cast the Empire in a bad light,
news
otherwise. = = = = =
Interfering:
Like meddling but worse. Interfering has
come to mean providing facts
in any context at all, not just elections.
Earlier this autumn, the French government presented a draft law regarding the creation of illegal digital interference on abortion. If it passes, it would condemn websites for "intimidating and/or putting psychological or moral pressures" in order to dissuade someone from getting an abortion. Politicians backing the legislation say it is mostly aimed at websites that look very similar to official or neutral websites, but do everything to discourage women from getting an abortion, thus tricking users with disinformation.
Disinformation = scientific facts. = = = = =
Fake News:
See Meddling and Interference and Disinformation. = = = = =
Cyberattacks:
See Meddling and Interference and Disinformation and Fake News. = = = = =
Undermining Our Democracy:
See Meddling and Interference and Disinformation and Fake News and Cyberattacks. = = = = =
Begs the question:
Means
Answers the question.
In a
long article
on Australia's decision to stop donating to the Clinton Foundation:
AUSTRALIA has finally ceased pouring millions of dollars into accounts linked to Hillary Clinton's charities. Which begs the question: Why were we donating to them in the first place?
The rest of the fake news article mentions many possible reasons (appearance of corruption, etc) but doesn't mention the REASON at all. Nations donated to the Clinton Foundation to gain favor with Madam President. As soon as Madam President became just an old sick fag hag with no official power, there was no reason to donate. = = = = =
Chaos:
means Order. From
Daily Beast, appropriately named:
Italians Vote in Referendum That Will Bring Chaos
Italy voted firmly AGAINST the forces of chaos and Empire, and in favor of order. The only way to get order in a complex system is
LOCALLY.
Nature understands this, and Natural Law states it literally and specifically. Before God started to create separate beings and places with walls and boundaries, all was void and chaos. = = = = =
Reee Quireda Miii Niii Mummm Diiissss Triiii Buuuu Tionnnnn:
The RMD is a complex piece of tax law that applies to some retirement plans but not others. Thus it gets a lot of discussion on money-advice shows. For some reason these shows have made a UNIVERSAL RULE to speak the phrase Re ... Quireda ... Mi ... Ni .... Mummmm ... Dis ... Tri ... Bu ... Tionnnn ... in this perfectly explicit style, one phoneme per second, EVERY SINGLE TIME it's mentioned. When a phrase or word is confusible this treatment is justified. When you're discussing employEEs and employERs, it makes sense to hit the EE and ER hard. When you're discussing ADduction and ABduction in an anatomy course, it makes sense to say A Dee Duction and A Bee Duction. But the RMD isn't like anything else. There isn't an RND. There isn't a Required Maximum or Median or Mean or Normal Distribution. Granted, the Chinese currency is sometimes called RMB, but that's way out of context for retirement plans.
Labels: Language update