Hopeless idiot
Idiot news:
The Obama administration is preparing to announce, as soon as Thursday, a series of retaliation measures against Russia for meddling in the US election.
First, if there is any evidence for Russian involvement, nobody has seen it. All we have is sound and fury by idiots. Second, the basic circumstances of the leaks fit the actions of an insider with physical access to the server. A long 'pull' over the net would have been detected by NSA and halted. Ockhamly, the most likely suspect is Podesta himself. He certainly had access to his own email archive. His pre-Hillary career was marked by a strong dislike of classified info. While working in Bill's admin, Podesta wrote an executive order declassifying huge batches of diplomatic and military documents. He was Wikileaks before Wikileaks was cool. Third, even if we assume for idiot argument that Russia ran the whole operation, what was the crime? Not meddling or interfering. Hillary's campaign was the only meddler and interferer. Hillary's campaign ran all the media, wrote the questions for the debates, intentionally cheated Bernie of votes in primaries, and tried to reshape the RNC choices against Jeb. That's interference. No matter who was delivering the info to Wikileaks, the only action by Wikileaks was PROVIDING INFORMATION. In previous times we defined PROVIDING INFORMATION as NEWS or JOURNALISM. We didn't punish Germany for running its own shortwave stations in the 1930s, and we didn't punish Russia for running Radio Moscow in the '60s. We didn't jam those stations and we didn't punish Americans for listening to them. We had
CONFIDENCE
that our own prosperity and security would be sufficient argument for our side. Now we don't have CONFIDENCE. We know that our own poverty and insecurity and infinite evil and infinite insanity are driving our people to find alternate SANE views, so we have to censor and silence the alternate SANE views. Fourth: Obama claims, just like Bush in 2001, that most of his unprovoked evil aggression will be covert. In 2001 covert unprovoked evil aggression against Afghanistan could remain covert, because Afghanistan was not an active part of the web and because many Americans (including me) were fooled into thinking that Afghanistan had been part of the 9/11 attack. Won't work now. You can count on Russia to immediately reveal what Obama is doing, and you can count on lots of Americans to be reading the revelation. Wikileaks opened a door that can't be closed. = = = = = Later: Interestingly, Putin's response shows the same CONFIDENCE that FDR and Eisenhower showed. Watching a psychopathic infant's last tantrum, Putin's spokesman says:
In our point of view such actions of the US current administration are a manifestation of an unpredictable and even aggressive foreign policy. We regret the fact that this decision was taken by the US administration and President Obama personally. ... Considering the current transition period in Washington, we still expect that we'll be able to get rid of such clumsy actions… of behaving like a bull in a china shop, and that we'll be able to make mutual joint steps to enter on the path of normalization of our bilateral relations.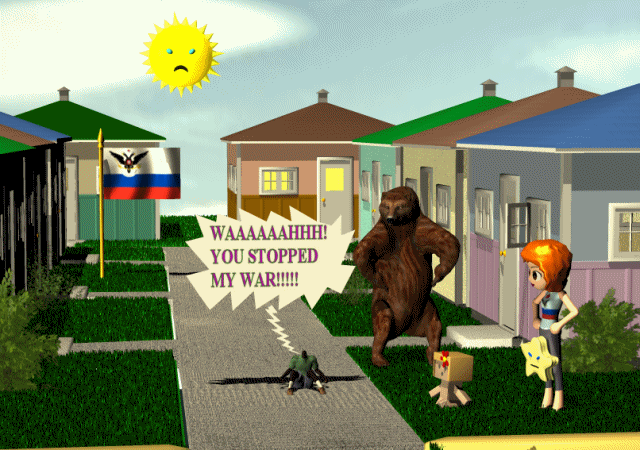 A sane adult's CONFIDENT response to a retarded baby.
Labels: switchover