Too early
Another
early bone-conduction transducer, from a 1901 electrical journal.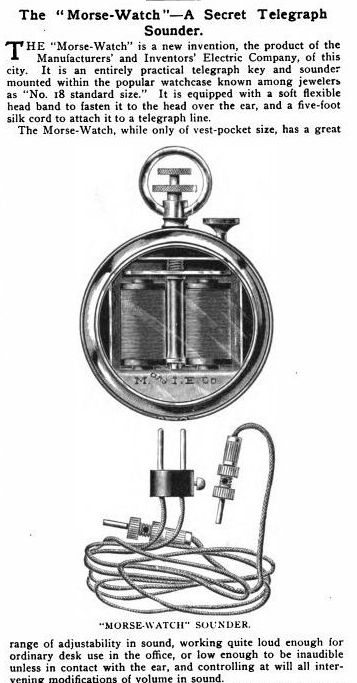 This didn't sell for obvious reasons. If you're within plug-in range of a telegraph, you might as well use the ordinary sounder and key. Holding this thing up to your ear doesn't count as "hidden" or "secret". Would have made more sense and sales after radio got underway. Morse in the pocket, genuinely hidden. A single sounder doesn't work well with touch; because of the delta nature of senses, it's hard to separate a long push from a short push. You'd need a selective circuit that pokes a Dit solenoid out on every upramp, then pokes a separate Dah solenoid when the signal holds longer than a few milliseconds. Put index finder on Dit poker, middle finger on Dah. Or probably better, a solenoid that pops out on upramp then vibrates until downramp. = = = = = Just for fun I tried the vibrating idea. Altered my
existing Morse-maker python
to output 10 cps beeps instead of 1000 cps. (Changed line 39 from Frequency = 1000.0 to Frequency = 10.0) Connected a little speaker to the computer's speaker jack.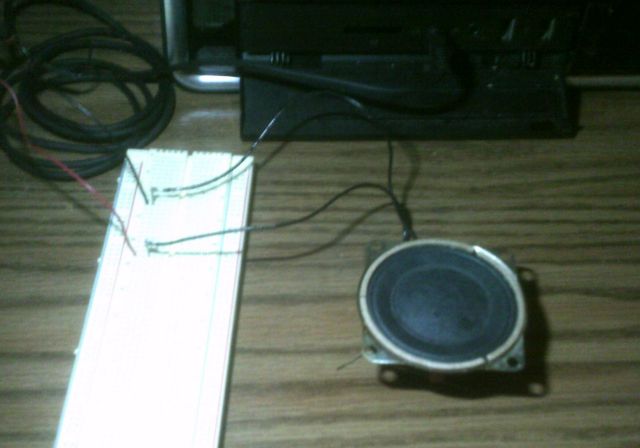 Ignore the breadboard. I had already rigged the cable and the speaker to plug into a breadboard, so the breadboard is just a lazy substitute for solder. The computer's output is driving the speaker directly. The 10 cps sound is not audible, so my finger resting on the speaker is the only sensor. Works perfectly. I can "hear" the words by finger just as easily as by ear. (Isn't the human nervous system astonishing? Without effort or training or breadboards it turns a finger into an ear. LIFE IS PURPOSE.)
Labels: 1901, Grand Blueprint