Secondleth, initialeth
I've kept my phone bell turned on during this medical week. On the first day of bell-ness, several junk calls came in; since then, none until today. This pattern shows consistently during the RARE instances when I turn on the phone. There's always an avalanche of junk in the first few hours, then not much. Junk callers must be trying over and over and over and over and over during my bell-less months and years. They can't stop trying until they get a nominal answer, even though I never listen to their shit. You can distinguish a junk call instantly by the 4 seconds of hissy dead air at the start. A real call, even when the caller doesn't say hello immediately, is clearly connected to reality. You can hear ambient room noise and mouth noise. A junk call is silent for 4 seconds before turning on the mic. Junk call just now came in, and I decided to give it a chance. It was a pro-Trump caller, doing a pretty decent job. I told her immediately that I'm already with Trump and don't need to hear the standard speech. She responded humanly but still kept rolling for a while. One minor but important point: Pro-Trump callers should NOT use the name
Donald J. Trump.
The middle initial is a standard leftist shibboleth, indicating that this name is a BAD NAME. NYTimes created this shibboleth. Sort of like Mom's tradition of using your ENTIRE NAME when you're in deep shit.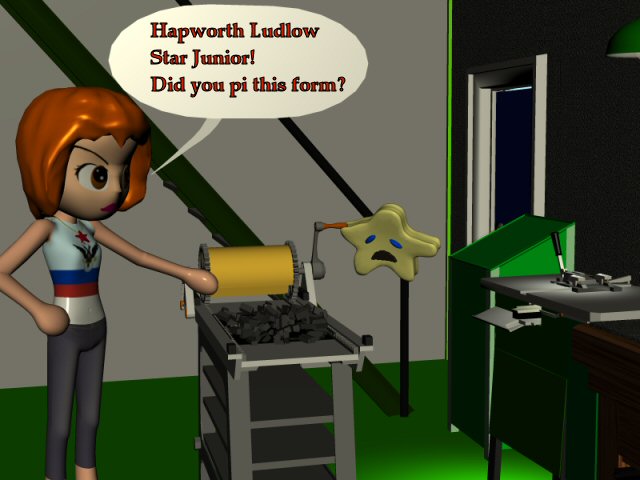 = = = = = Graphic note: It's a safe bet that I've made the first cartoon about a pied form since AT LEAST 1970, more likely since 1920. Later: Found one! From Inland Printer, 1909.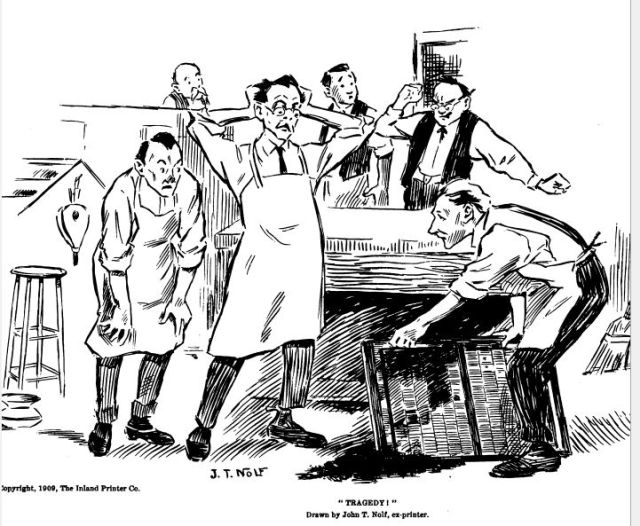 Definite resemblance between the two pictures. The unfortunate pi-er has the same demeanor ... and even the same head-shape! ... as poor Happystar.
Labels: Language update, Leth