What's missing is what's missing
Nothing can save us from the Tech Tyrants. They will continue to automate everything and eliminate useful work. Starve the poor, enrich the rich. But at some point in each area of invasion, Nature will fight back. There's something missing in any Google operation, and there's a type of question that search engines or 'machine intelligence' can't answer. = = = = = In returning to active fiddling with electronics, I'm aiming to get relicensed as a ham. The first time I got licensed was in 1965. I didn't do a lot of actual operating; shortly after getting the license, hippie shit grabbed my life. Stupid. Should have stayed with electronics and enlisted in the Navy. But I didn't. Still, I kept the '64 ARRL Handbook
(the 50th Anniversary Edition)
for many years, and kept the knowledge and the Morse fairly active. Resumed electronics from a digital angle in the late '70s and turned it into a career, which I should have done the first time. Started programming in the '80s, which gradually pushed out the hardware in terms of fun and profit. After 1990 it's been all graphics and software, and my electronics tools and junkbox got tossed. Now I'm pushing back into electronics with a specifically
non-modern
intention. Sticking with analog. Working up code and theory toward a ham license again, though the code is no longer required. Getting back in touch with ARRL, buying books, finding that the Handbook is now the
100th anniversary edition.
I'm old!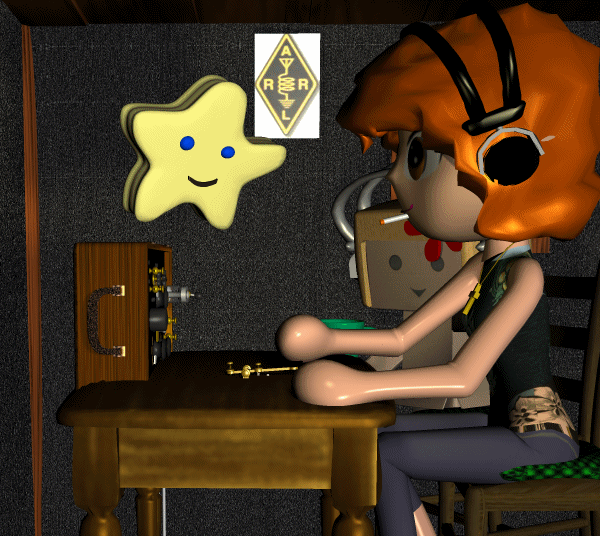 Lucky Polistra! Cartoon characters don't get old unless they want to. = = = = = While looking up some obscure Morse punctuation, I bumped into
this discussion
of codes in general. It focuses on what's called the 'prefix property', which Bell Tel had to handle in creating an international system of phone numbers. The problem arises when you have a code with variable-length chunks. Before mechanical dialing, phone numbers could range from two to seven digits within the same city. Bell was able to standardize somewhat but ran into legacy resistance in towns that were accustomed to dialing only 5 digits. How do you know whether the first digit is an area code, the two-letter prefix, or the 5-digit part after the prefix? How do you separate the segments? Bell solved it by restricting the available digits in each position. If you wanted long distance (or Bell internal service numbers) you started with 1. None of the area codes or prefixes could start with 1 or 0, and the letters for prefixes enforced this restriction. (
Strowger
solved the problem more directly with an "I'm Done Dialing" button on the base of the phone!) The article mentions Morse as a variable-length code, but
misses the point
badly:
You can see from figure 6 that the code words used in Morse code don't possess the prefix property: the code word for 'A', for example, is a prefix of the code word for 'J', and for 'L' (and others). This leads to some interesting questions for you to ponder: In transmitting Morse code messages, telegraph operators left a time gap between letters (and a longer gap between words). Why do you think they did this?
Well, okay ... but the gap between letters is NOT just something you do because it's convenient. It's PART OF THE CODE. There are standard lengths for the inter-pulse interval, the inter-letter interval, and the inter-word interval. When representing Morse in
computer form,
each of these intervals requires a distinct symbol. When the program hits the IPI or ILI symbol, it adds a one-beat pause or a three-beat pause to the sound it's outputting. These actions are on the same level as dots (one-beat beep) and dashes (three-beat beep). Result: No prefix problem at all, because each element always has a determinate POSTFIX. Because the author didn't have Morse in her muscles, she didn't know
what was missing
in her understanding. = = = = = Another code-like example in today's "science" news about
the whistled version of Turkish.
Though this is actually an old subject that has been studied before, it's getting studied again with the help of MRI. Unsurprising result: whistled languages require both the language and music sides of the brain. What's missing? I wanted to know if the whistling was arbitrary or a direct output of the formants in the vowels. The writeup doesn't tell us, because the writer
didn't know
it was missing. The author clearly wasn't familiar with linguistics. = = = = =
Third example: It's clear that Wash state Destroyer of Natural Resources (DNR) has completely failed. Last year they were actually PREVENTING farmers and citizens from fighting fire on their own property. This year DNR didn't fight FOR the fire, but obviously botched the response on the big fires. (Smaller fires are still being handled well, which indicates that the equipment and personnel are not the problem.) Now, after several deaths,
idiot governor Inslee
is finally taking things out of DNR's hands and calling in the National Guard. What's the problem? Not visible from anything you could look up on Google. Clearly visible to everyone who lived in Spokane in 2008. Mary Verner was mayor in 2008. She completely failed when the Supersnow hit, and
FAILED IN A FIRE
as well. The governor (at that time the highly competent Gregoire) had to fly in and take over in both situations. Now Verner is head of DNR's wildfire response. Failing in an emergency just as she did before. = = = = = Every discipline and every human action, all the way down to turning a doorknob or putting on a shoe, has these undescribed depths. Because these deep points are contained in muscle memory or intuition, experts rarely discuss them in public. They don't get expressed in a format where search engines can find them. Google can't tell you what's missing. = = = = = Of course none of this will slow down the Tech Tyrants. They are psychopaths. Sharks. Keep moving forward, eat all obstacles. When the
Negative Externalities
start to get smelly, Tech Tyrants will simply process the Negative Externalities into 3D-printed Soylent and keep moving forward forward forward. = = = = = = = = = = = = Footnote for clarity: I'm not blaming Verner for the failure. Steering a bureaucracy through an emergency is a rare talent. You don't know who will succeed until the emergency actually happens. She tried in 2008, but she didn't have the special talent. Not her fault. I am specifically blaming Inslee for appointing Verner to an EMERGENCY-HANDLING job after her lack of EMERGENCY-HANDLING talent was ALREADY KNOWN.
Labels: 20th century Dark Age, Language update