Zen-like again
Another of those annoying
'mid-century modern'
things.
Satan-Review has an article
on The Ferris House, built in '55 by a real architect in the best part of the South Hill. It has 4 beds, two baths and a single carport. No basement. A couple of interesting features, a narrow kitchen (no bigger than mine!) and a flat roof. Asking price is around one million. In my nice safe neighborhood there are plenty of solid houses with 4 beds and 2 baths, priced in the $120k to $190k range. Many of them have basements and
pretty mid-century features.
All of them have pitched roofs that will shed rain. For a million you could buy a whole block of these decent houses. Or if you want to blow the million on one house, you can buy
THIS
, which looks like an entire neighborhood but is actually one house. It has the same design cues as the Ferris house. It has EIGHT THOUSAND square feet, and perches up on top of the rimrock with a view of the whole state of Washington. Putting it visually....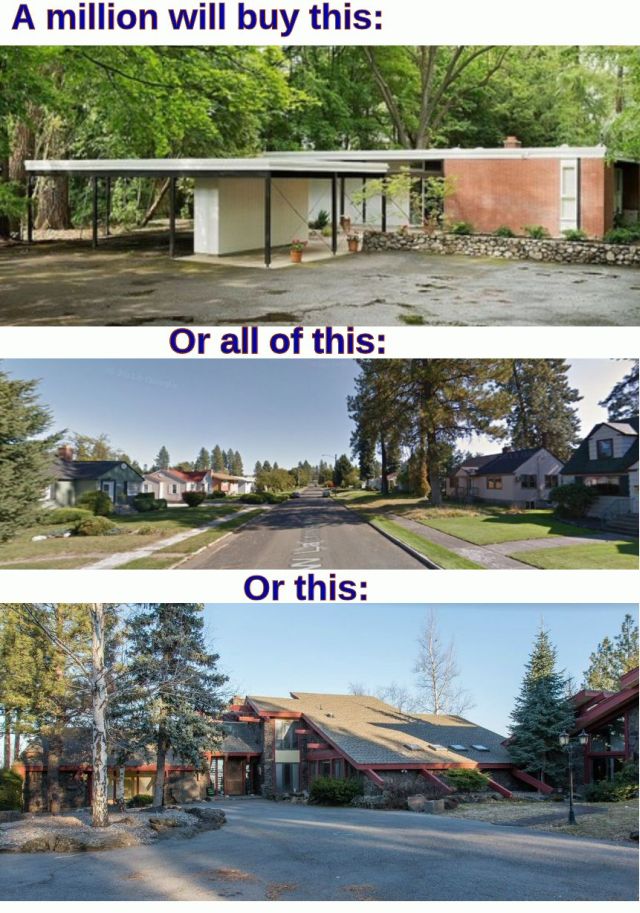 Understandably, the seller is having trouble finding a sucker who wants to spend a million for a $180k house.