Not old-fashioned, just ugly
It's obvious, and often discussed in auto-discussing circles, that automobiles have returned to 1930 in basic form. The mechanics are wildly different now, but the essential configuration has come full circle. Starting around 1940, and hitting its stride in 1949, the three-box form lasted until 1990. Now we still have three-box cars, but the typical family vehicle is two-box. Engine in front, passenger compartment occupies the rest. Just like 1930. Most important force in this return is a renewed realization that
height matters.
If a car is tall enough, you can fit more people and stuff inside the same length and width. It's not just L x W x H = V. It's also a subjective need for upward room, which applies similarly in houses. This was understood in the '30s. When carmakers started the longer-lower trend in 1940, most
people were unhappy
but went along because there wasn't any choice. Now that height is back, customers are happy again, perhaps without realizing why. KT Keller, the
hat man,
was right all along. In the early '50s he maintained usable height AND COMFORT in Chrysler products while GM and Ford were going long and slinky. He lost sales, and eventually gave up the battle. By '57, Chrysler products were the longest and slinkiest and least comfortable in the world. One theme that continually pops up in these discussions is the idea that KT's cars were "old-fashioned" or "conservative" while GM and Ford were "modern" or "progressive". This simply doen't work.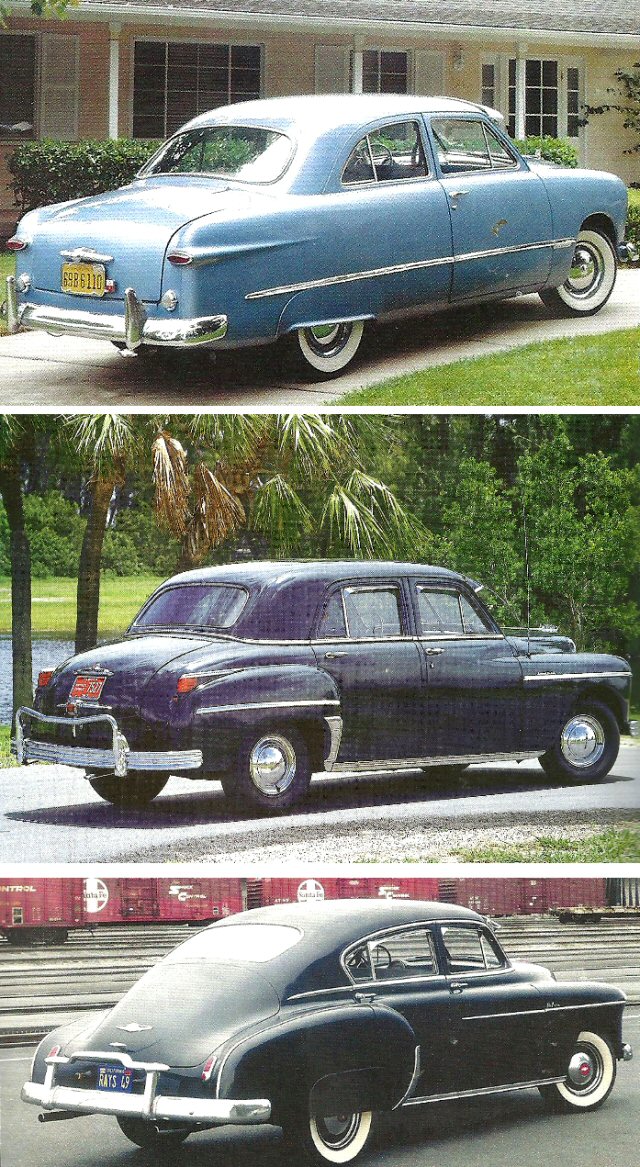 Here are the '49s, first true postwar design. Ford is unquestionably the most "modern", with straight-thru beltline and no distinct fenders. But when you look at Chevy and Plymouth objectively, they're equally "old-fashioned". Both have separate fenders, continuing the '40s pattern. Chevy had a choice of three-box or fastback, retaining the old. Plymouth was mostly three-box except for the nice (and currently more valuable) compact
Concord two-door.
The problem with KT's Plymouth is not oldness, it's ugliness. Every shape is a bit more square and 'chopped off' than it needs to be. Plymouth was actually the
longest
of the three, but you'd never guess it. Looks short and small. Chevy has the same overall pattern but the curves are harmonious. Jump forward to 1953, and you'll see that
Plymouth
firmly joined the modern trend while
Chevy
was still objectively old-fashioned. Didn't help; Plymouth was still called "conservative". = = = = = While I'm on this, a couple of height-related oddities that haven't been discussed. (1) From 1935 to 1990, the height of auto
hoods
steadily declined, especially at the front, while the height of
engines
, especially at the front, increased. If you look at a cross-section of a
1920s car,
built to resemble a locomotive, you'll see that most of the engine compartment is air. Flathead inline engines mounted behind the front axle were LOW. The top of the engine was about even with the driver's feet. Only the carb and air cleaner jutted up into the blank space. After 1935, engines began moving forward and upward, climbing over the steering and suspension; engines switched from flathead to OHV and then OHC, also requiring more height; the suspension switched from leaf to coil springs to MacPherson struts, also requiring more underhood height. But after the locomotive theme went away, hoods had to drop lower and lower, especially in front. (2) The lower-longer trend happened during the years when actual Americans were growing taller. Now that cars are getting taller again, Americans are getting shorter!