WORK. ALL. DONE.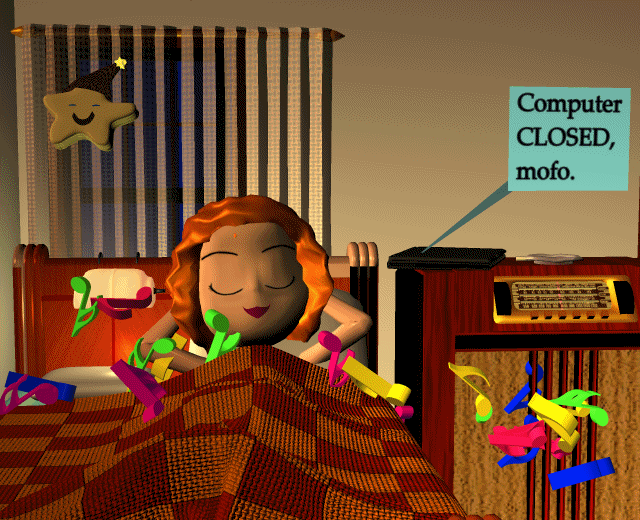 Got word that the courseware has finally passed all QA and is going into production. This has been a hard year. Feb to Feb, 12 months of steady 50 hrs/week, punctuated by a
quasi-tornado in July
and
Jury Duty in December.
Made it. Learned a lot, sold out my 'craftsman integrity' at some points, had quite a few moments of frustration and triumph. Constantly annoyed by those fast-talking New York Corporate types, but I'm sure they were EVEN MORE annoyed by this non-talking Hillbilly Hippie type. Done. Success. Now I can get back to the Retired side of this Semi-Retired life. Enough of the Semi side. For now. Until I get bored. Then I'll get nostalgic for the Semi side. Loop. = = = = = Artistic sidenote: My first impulse for the animation above was to show the computer open but
covered.
In the era of typewriters and adding machines, the dust cover was the iconic signal of 'Done For The Day'. Polistra pretty much lives in that era, so she wants to cover the machine. Dust covers continued through the early days of
TRS-80s
and Apple IIs, because those machines still behaved like typewriters. Turn it on and it's running Basic,
instantly
ready for work. Around 1985, as Windows and Mac systems took longer and longer to start and finish, computer users learned to leave the machine running constantly. Shutdown was time-consuming and risky. Now that software depends on Mama Web to remain alive, shutdown is strictly for emergencies. So the dust cover is gone, a metaphor is gone, and keyboards and cooling fans get seriously gunky.
Labels: coot-proofing, TMI, Zero Problems