Windbreaks 2
Returning briefly to the
subject
of soil conservation as a model for economic conservation. I really said it all in the first piece, but felt like adding a couple points to keep the subject running if nothing else. Two WPA films offer a good visual aid.
Rain for the Earth
is a direct 'tutorial' on the subject, written in beautifully terse Emersonian prose. And
Soil Conservation Pays
begins to make the economic connection. Big point: Soil conservation worked because government made it work. Farmers were assisted and organized by the Federal Soil Conservation Service, and also by county Extension Services. These agencies offered expert advice and helped to coordinate efforts. Without coordination each farmer's work would be futile. No point in keeping your soil if your uphill neighbor is flooding your land every spring. What would it take to perform the same services for economic conservation? First and foremost, an absolute prohibition against speculators. Glass-Steagall plus
a lot more
, which I won't specify because I enjoy living. Assume
a lot more
has happened. How should the new county-based government use the example of Soil Conservation Service and Extension to rebuild a windbreak-based economy? Contour plowing
keeps soil at home.
The econ equivalent must
keep money at home.
Keep the value circulating in a small space where it can nourish productive growth and seed other value. For this purpose
home
should be considerably broader than one farm, but not much beyond a few typical-size counties. The new banking system could begin with
Postal Savings.
Every village and neighborhood has a Post Office, and those buildings once served as basic banks. Do it again. Hold deposits, process checks and similar transactions.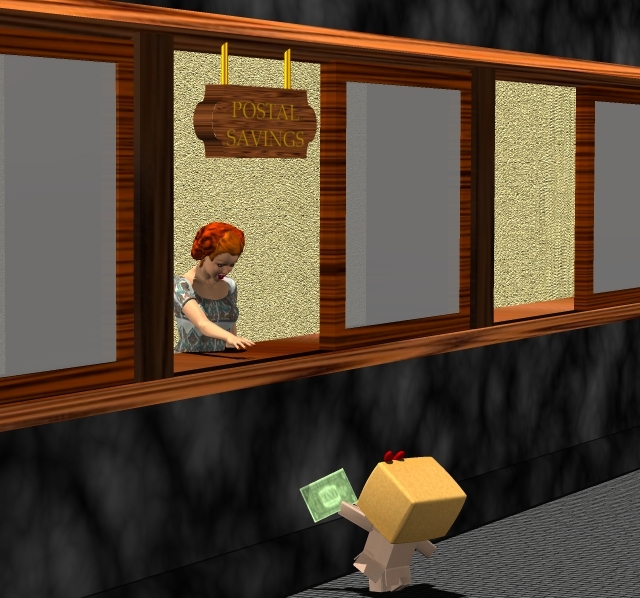 The county-based Money Conservation Service would go beyond the basics. It would
coordinate
investment in farms and other businesses. If you wanted your deposit to bring a return, you'd authorize the Postal Bank to pool it with other deposits to help start and expand local businesses. Those businesses would have to follow the advice and assistance of the Extension Service, and would have to pay a percentage of the resulting profit back to the bank, which would then pool the dividends among participating depositors. In other words, a classic Coop, but serving more than agriculture. Or in
other other words
, a sharia bank. Another solution or helper in the tax realm would be a
Distance-Added Tax
or DAT.
Labels: Natural law = Sharia law