Blogstat note
Sort of a 'constants and variables' look at the stats on this blog. Overall, this blog serves no purpose except as a personal steam vent. I try to write things that are moderately original; try to offer thoughts that aren't available everywhere, but those things don't stir any interest. People are only interested in reading the same things they can get everywhere. If everyone else is reading X, everyone who isn't already reading X wants to read X. But there is one exception to the purposeless quality.
Exactly one item
on this blog seems to have been providing a tiny public service for a long time.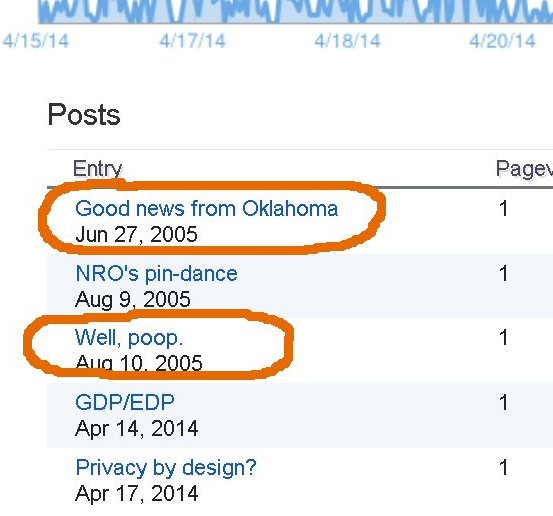 Way back in the third month of writing, I happily noted a positive development in my old hometown of Enid. (The first circled entry in this image.) I kept track of the development, and a few months later noted with disappointment and disgust that the positive development was false. (Second circled entry.) Since then, those two items have been hit
almost every day
for nine years, with keywords indicating that the searches were correctly aimed. Apparently those two items are the most direct access to a proper news item about the subject of those two posts. The subject has been remarkably active, and in recent months the activity seems to be spreading northward. Makes sense, considering the main industry of my old hometown and the current center of such industry. = = = = = Another oddity in recent months: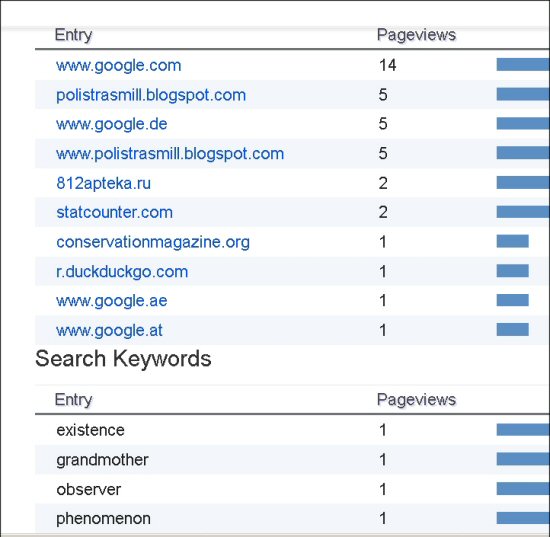 A sudden increase in access from single ordinary words. I can't see a good reason for these ordinary words leading to my blog! It's a different set each day, but always moderately common words with no particular connection to my writing habits. In today's set, 'observer' halfway connects because I'm always shouting about 'observed facts'. The others are used rarely. One thing has remained remarkably constant since the last time I wrote about blogstats: Companies and countries are
not
looking for information about themselves. I've said a lot about various government agencies and various companies. Those agencies and companies pop up in the stat list sometimes, but they're never reading the items about their own agency or company. They're either looking for porn or reading some of my sciency ramblings. I write a lot about Turkey and Russia. Viewers from Turkey and Russia pop up frequently, but again they're not reading what I write about Turkey or Russia.

Picture-perfect example a few days after original post. Here's a company I talk about OFTEN, in the harshest and most factual terms. Do they care what some non-Chosen yokel says about them? No, of course not. They only read the stupidest entry in the entire 9 years of writing, the ONE entry out of all 4400 that fits into the "everybody has already read about this" category.