Buy American = Buy 1970s
I've concluded that the best way to 'buy American' is to 'buy old'. American products made before 1980 were almost always good; American products made in the last decade are almost always bad. Of course Chinese crap is worse, but only marginally. I've tried three new US household products, and two of them were awful. (
Lodge frying pan
and
Kuulaire swamp cooler.
) One is good:
Great States manual lawn mower.
In contrast, I've bought many older American-made items through Ebay, and all have been wonderful. I'm slowly bringing my household back to 1970 American stuff, and it's just as good as I remember from the 'live' 1970s. I didn't appreciate it then, because I didn't know that free trade treaties and
share-value focus
would soon remove all manufacturing from America. Admittedly '70s stuff wasn't necessarily the
best
American stuff, but it was the
last of the good.
Some earlier products may have been better, but they're usually fragile and unrepairable by now. Also, '70s products haven't yet jumped the fence from used to antique, so they're still perfectly affordable.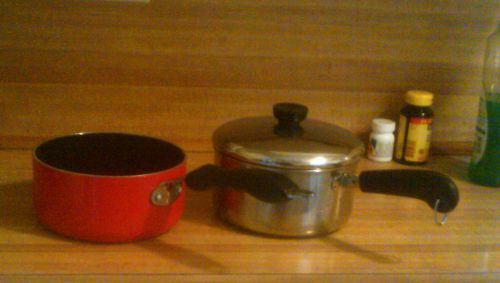 The latest demonstration of 1970 American quality was dramatic and maybe a little scary. I'd been using this heavy red Chinese crap pan for 10 years, and its non-stick coating was just about gone. Figured it was time to go American, found this beautiful RevereWare pan on Ebay. Tried it out this morning with my usual breakfast ramen, and realized two things immediately: (1) I'd always blamed the electric stove for frustratingly slow cooking compared with my old memories of gas stoves. Nope. Electric does take longer to heat up and cool down, but the Chinese crap pan was the main culprit. Ramen took 10 minutes in the Chinese crap pan, and takes 4 minutes in the RevereWare, with a
lower
setting of the burner. Where the hell was all that heat (and all that electricity)
going
???? (2) The ramen unquestionably tastes better. Tastes the same as I remember it from many years ago. I'd thought the odd taste was a change in the ramen or my fading elderly senses, but it was clearly coming from the Chinese crap pan. And that's the scary part. Was the pan leaching aluminum or Teflon or something? Or was it just the overlong cooking? The RevereWare also fits better in my drainer. This brings up a broader pet peeve about design. Most new household stuff is TOO DAMN BIG and TOO DAMN BULGY. Whether it's a computer or a refrigerator or a toilet or a book or a bottle, the smallest available size is often too big for my rooms, shelves, drainer, cabinet, etc. And the new stuff makes it worse by having bulgy sides or rounded tops or long heavy handles or protruding parts, so you can't put anything on it or near it. I guess it's designed for McMansions with 2000000000000 square feet and 100000 rooms. Moral of the story: If you really want to live efficiently and greenly and eco-ly and all that shit, you can do it better with pre-1980 American products. Later note: Another big advantage of '70s stuff: It's NOT HACKABLE. This wasn't the reason for my initial bias, but it's becoming more important as the 'internet of things' proves to be the 'internet for criminals' and the 'internet for Googlesatan'. Except for the computer and its peripherals, nothing in my house is hackable. I've made sure that everything is pre-digital. Whether old or new, it's all '70s-era technology. Mechanical switches, electromagnetic relays and timers, analog circuitry in radio and audio stuff. No digital, no remote control, no CPUs.
Labels: new toy