Come on, US manufacturers. You can do better!
I keep trying to buy American, but the results are disappointingly mixed. Couple years ago I tried a
Kuulaire evaporative cooler,
which didn't work at all. (However, I can't really complain about that one; the online reviews warned clearly that it didn't work!) Last summer I bought a new
manual lawn mower,
which is a
magnificent
machine. Just about perfect! This year I bought a cast-iron skillet from Lodge. It's solid, but Lodge mysteriously skipped an important part of the manufacturing process. They didn't polish the surface. Comparison: Back in 1970 I inherited a Wagner Ware skillet from grandparents. They had used it from (approx) 1950 to 1970, then I used it for another 10 years. It was easy to use and easy to clean, because the surfaces are smooth. Since I
resumed
real cooking I've been using Chinese aluminum pans because the old 5" Wagner is too small for my usual 3-egg omelet. When the latest Chinese pan wore out, I decided to try American again. Bought a Lodge pan. Failure. You can't use a spatula on the rough sand-cast surface, and you can't get the egg to slide on the butter. The egg merges completely with the surface.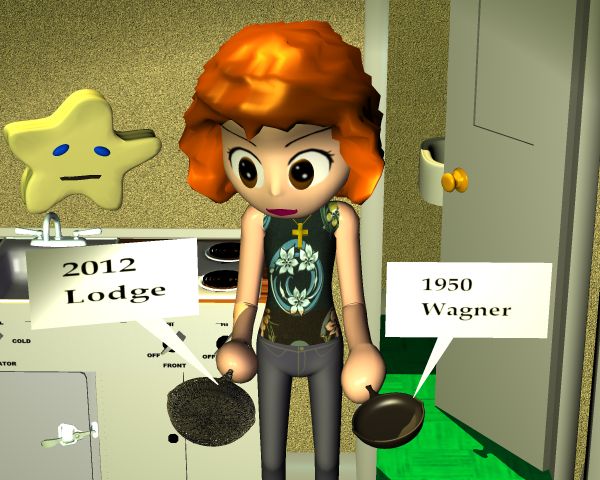 = = = = = Artistic note: I tried to get a photo of the two pans, to show that the cartoon above wasn't just my imagination. But the sand-cast interior of the Lodge pan absorbs light the same way it absorbs everything else. Black hole. Couldn't even make it visible with the scanner. I did manage to scan the bottom side, which shows the difference fairly well: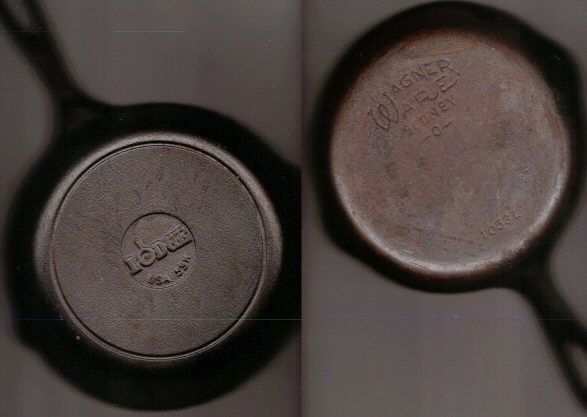 Labels: Heimatkunde