Cell phones as seen from 1910
Futurists always see new technologies serving
serious
and
uplifting
and
goddamn nosy busybody
purposes. They never foresee that most people want plain old entertainment most of the time. As radio and television and computers started to appear on the horizon, futurists couldn't see that radio would be built by Amos & Andy, television would be built by pro wrestling, and the Web would be built by porn. No, each of those technologies would only serve to Regale The Benighted Mawwsses with The Operaaaaah, The Ballettt, The Theataaaaah, and Lectuaaaahs Upon Pseudo-non-dimorphic Leitmotifs In Pintaaaahhhh And Shakespeaaaahhh. And naturally each new tech would End War By Facilitating Communication Between Conflicting
Ethnies.
Nice example from a Univ of Minnesota engineering journal, 1910: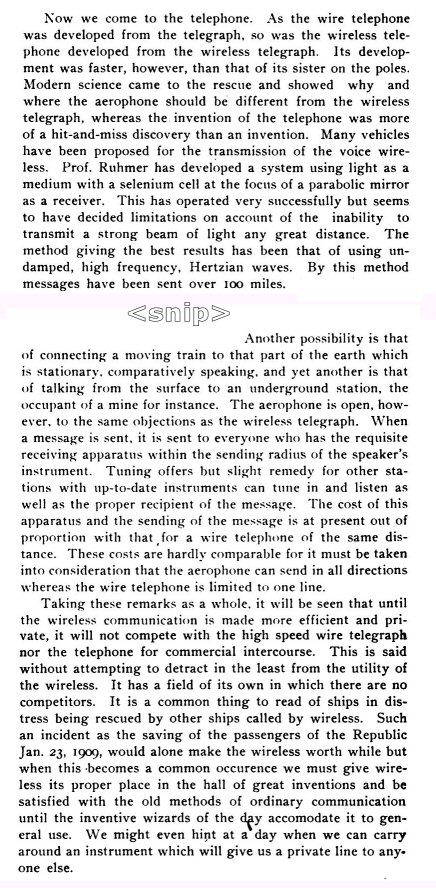 Note the cellphone at the end: "We might even hint at a day when we can carry around an instrument which will give us a private line to anyone else." But also note the total absence of entertainment. The 'aerophone' would save people in emergencies and speed business correspondence. That's all. Especially dumb because
Fessenden
and others were
already
broadcasting music and jokes in 1906. = = = = = Sidenote 1: We automatically think the Titanic was the first use of wireless to save a ship. Obviously it wasn't. Presumably David Sarnoff
created the Titanic legend
to serve his own purposes. = = = = = Sidenote 2: The futurists weren't wrong about everything.... Radio, TV and the Web have all helped warmakers to propagandize, organize and run wars. "Facilitating communication among conflicting ethnies" is the best of all possible ways to
guarantee
war. But one recent technology
has
actually ended one type of war. Satellites with cameras make a massive surprise invasion impossible. Any attempt to build up troops and tanks and ships and planes will be detected by one of the major powers.
Labels: 20th century Dark Age