Tesla vs Gaia
Purely delightful. The idiotic Tesla brick has displeased the
mighty NYTimes.
The Model S has won multiple car-of-the-year awards and is, many reviews would have you believe, the coolest car on the planet. What fun, no? Well, no. Setting out on a sunny 30-degree day two weeks ago, my trip started well enough. A Tesla agent brought the car to me in suburban Washington with a full charge, and driving at normal highway speeds I reached the Delaware charging dock with the battery still having roughly half its energy remaining. I went off for lunch at the service plaza, checking occasionally on the car's progress. After 49 minutes, the display read "charge complete," and the estimated available driving distance was 242 miles. Fat city; no attendant and no cost.
No cost to you, fuckhead. You're rich and cooooooool and obnoxious. Rich and coooooool and obnoxious fuckheads never have to pay. Instead,
POOR PEOPLE
are paying for your satanic luxury, you miserable arrogant pea-brained Gaia-worshipping wacko.
As I crossed into New Jersey some 15 miles later, I noticed that the estimated range was falling faster than miles were accumulating. At 68 miles since recharging, the range had dropped by 85 miles, and a little mental math told me that reaching Milford would be a stretch. I began following Tesla's range-maximization guidelines, which meant dispensing with such battery-draining amenities as warming the cabin and keeping up with traffic. I turned the climate control to low — the temperature was still in the 30s — and planted myself in the far right lane with the cruise control set at 54 miles per hour (the speed limit is 65). Buicks and 18-wheelers flew past, their drivers staring at the nail-polish-red wondercar with California dealer plates. Nearing New York, I made the first of several calls to Tesla officials about my creeping range anxiety. The woman who had delivered the car told me to turn off the cruise control; company executives later told me that advice was wrong. All the while, my feet were freezing and my knuckles were turning white. ... At that point, the car informed me it was shutting off the heater, and it ordered me, in vivid red letters, to "Recharge Now." I drove into the service plaza, hooked up the Supercharger and warmed my hands on a cup of Dunkin' Donuts coffee. ..... If this is Tesla's vision of long-distance travel in America's future, I thought, and the solution to what the company calls the "road trip problem," it needs some work.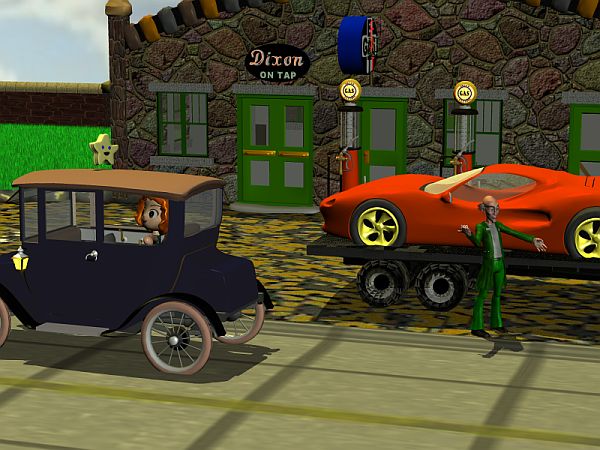 As NYTimes stands hopelessly stranded in his wonderful vision of the future, Polistra and Happystar hum sedately past (
yet
again
) in their
1917 Detroit Electric.
The Detroit had a short range, just like the Tesla; but the Detroit didn't claim to be a magic solution to the country's problems. It only claimed to be a quiet non-smelly car for city use. And that's
still
the only appropriate role for electric cars. According to
NPR's report,
Tesla founder Elon Musk was indignant about the NYTimes review. He complained that NYTimes drove too fast, took unplanned detours, and didn't charge the batteries fully. Tell you what, Musk boy, those are EXACTLY the reasons for using a car instead of mass transit. In a car you have
control over your speed and route.
In a bus or train you don't. Taking unplanned detours is THE WHOLE FUCKING POINT of owning a car.
Labels: 20th century Dark Age