Water on Mars means we should kill ourselves.
The latest detail from Mars is unquestionably exciting. Surface gravel implies underground aquifers, and aquifers can hold
very old
water. Could be a teeming sea of microbes down there.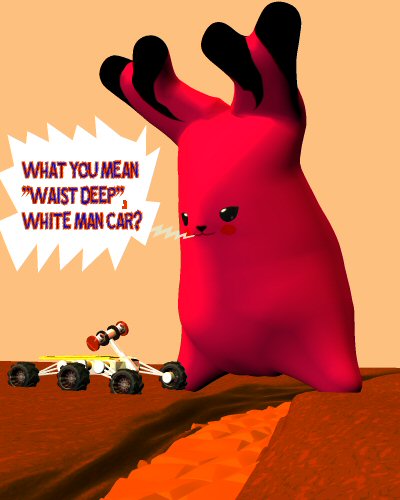 I knew we'd find the usual ratshit from the Gaians, and sure enough the first comment on
HuffPost's coverage
comes through with flying green colors: "It will be a very long time before we go there,so lets hope by the time they do,we will be more caring with both the earth and mars............. " Okay, Gaians. You've been making that idiot point forever. Mars is the
Horrible Example
, showing us what Earth will become
next week
if we keep up our sinful breathing. How about a little logic for once?
Q:
Which planet has a human civilization?
A:
Earth.
Q:
Which planet is teeming with all sorts of life?
A:
Earth. If you want to attribute this type of causation ... if you want to say that the long-term presence of humans leads to one type of planet or the other ...
THE ONLY FUCKING SCIENTIFIC CHOICE
is to say that human civilization leads to a wildly abundant planet. This shouldn't be surprising. Before the development of culture, humans were in fact the pure destroyers that Gaians imagine. Nomadic warriors kill anything that's good to eat, and kill it until it's all gone. After humans settled down and cultivated plants and livestock, they quickly figured out that wasting the earth's abundance is a bad idea. Example from the
Code of Ur-Nammu
from 2000 BC, the oldest existing written law:
If a man had let an arable field to a(nother) man for cultivation, but he did not cultivate it, turning it into wasteland, he shall measure out three kur of barley per iku of field.
You waste, you pay.[
Translating the units,
you pay 15 bushels of barley for every acre of field you wasted.]
Labels: Carbon Cult