Facts will get you through....
I've been pulling on these strings for a long time, without noticing how they come together.
The strings are a number of truly bad theories that totally control the actions of our governing, business and scientific establishment.
(1) Global warming
(2) Egalitarian views of genetics and behavior
(3) 'Neoclassical' economics
(4) Evolution
(5) Quantum physics
(6) Big bang and multiverse cosmology
= = = = =
They fall into two categories of invalidity:
1,2,3 are absolutely false, can be disproved in one second.
4,5,6 are not quite false. They're poorly designed, vague and untestable, and lead to all sorts of contradictions when you apply them.
= = = = =
And two categories of evil:
1,2,3 have
killed millions of innocent people.
4,5,6 have given us a monstrous pile of wasted expense, wasted effort and terrible education.
= = = = =
Another thing I've been seeing and saying for a long time: you can live your life quite well without using these theories.
You can do meteorology without believing in Global Warming or an alternative theory. The alternative would be equally bad because it would be an alternative explanation of "global temperature", which is an
invalid concept.
Just check your forecasts against measured reality and adjust.
You can run a business without
macroeconomics.
Just measure your customer satisfaction by profit, not by share value.
You can perform every necessary biological or medical task without believing in evolution or creationism.
And so on.
= = = = =
What finally knitted it together was
Shepardson,
plus one sentence from a book review.
Shepardson wrote in 1901, a quarter century before the bad quantum idea was imagined, but ALSO a few years before the Bohr picture of the atom was well developed. He may have heard news about Thomson's 1899 notion of 'corpuscles', later named 'electrons', but he didn't use that notion. AND HE DIDN'T NEED IT.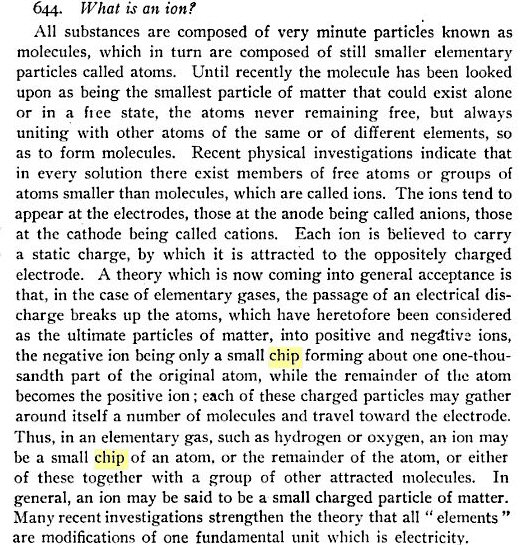 His description of the chemical and physical processes of electricity is complete, objective and usable even today, despite terminology ("chip") that seems odd.
Atoms and molecules were enough detail. Knowing the exact internal parts of the atom was UNNECESSARY.
The Bohr model helped later on, because it was strictly derived from chemical and electrical observation. The quantum model has never helped. [The original bijunction transistor is often cited as an example of quantum guidance, but the original bijunction transistor was just a 20-year detour.
The direct line of development,
starting with an idea in 1840, would have given us the FET without invoking quantum explanations at any point.]
The final stitch for me came today, from an article pointed via
Uncommon Descent.
Although microphysics can help illuminate the chemical bond and the periodic table, very little physics and chemistry can actually be done with its fundamental concepts and methods, and using it to explain life, human behavior or human society is a greater challenge still.
The author is talking specifically about quantum physics, criticizing the modern tendency to attempt quantum explanations for everything.
Here's the sudden stitch: These bad theories are bad and unnecessary; AND the good theories that "should" replace them are ALSO unnecessary.
= = = = =
A bad theory is a sign that you don't need ANY THEORY at this level of abstraction.
Or in terms of actions and consequences:
Our natural response to a bad theory is to replace it with a testable and valid theory. This is wrong. Instead, we should pull back from the level of generalization where the bad theory grew. We should be happy to function without any theory at that level, because in fact we DO function perfectly well without it! If and when the known facts
lead inexorably
to a new stage of generality, then we can climb to that step. Until then, keep your theorizing in the realms of fiction or philosophy. Don't try to use it as science.
As the Freak Brothers almost said,
Facts will get you through times of no theory better than theory will get you through times of no facts.
Labels: 20th century Dark Age, Carbon Cult, the broken circle