December language update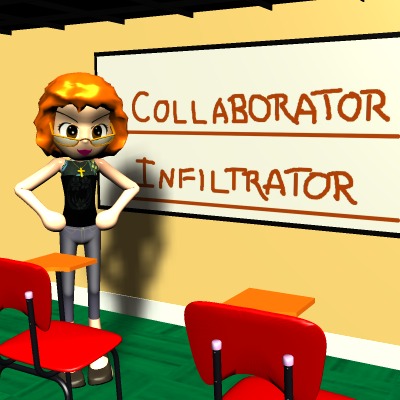 Professor Polistra usually notes words that are new or overused. This month she wishes to call our attention to a pair of words that we
never use
, words that we desperately need to start using.
INFILTRATOR:
The dictionary says an infiltrator is a soldier or agent who surreptitiously takes up a position within enemy ranks.
COLLABORATOR:
A person, organization or government who actively works with the enemy.
Example: Nidal Hasan is not a Troubled Youth. He is a Palestinian infiltrator by the strictest definition. He infiltrated the US Army to spread Mohammedan propaganda among our soldiers, and to kill as many of our soldiers as he could manage. And the organization that actively helped him (which is also the US Army!) is a collaborator.
[Unfortunately there isn't a word for an organization or government that collaborates in its own suicide. By medical analogy you could call it an auto-immune disorder or anorexia ... or you could just call it America.]
= = = = =
The Swiss vote to prohibit new construction of minarets leads to a more interesting and abstract use of the words. Back in WW2, Switzerland collaborated with Hitler. Now, faced with a truly foreign set of infiltrators, Switzerland is showing a spark of healthy national life, taking a small tentative step to reject the fascists instead of collaborating with them. The fascists don't like this; Jordan, Egypt, Arabia, and other enemy countries have verbally complained and some of their primitive featherless bipeds have stampeded.
This is normal.
Those Arabs are taking their own side in the dispute, which is how nations should behave. But other European countries, and all the Western media, are also taking the side of the Arabs.
This is not normal.
This is collaboration.
See how it works?
Labels: Language update