Not quite the same, but still....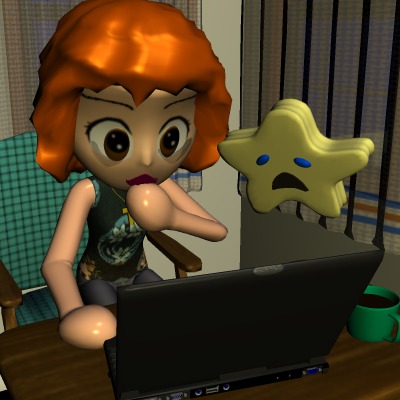 The online store where I sold most of my Poser-type products has suddenly closed. The owner left
this heart-rending letter
online, and simply locked the place.
Practically speaking this doesn't mean a real loss of money for me. Poser stuff is not my main source of income, and I can move products to another outlet where they will sell better anyway. Nevertheless, I like this store and feel at home there, so this
feels
like a lost job.
Was it "the recession"? I suppose partly. Mainly it was bad decisions by the store's owner. Last year he accused one artist of copyright violation; I don't know the facts for sure, but it appears that the accusation was false, and it caused a huge foofaraw in our little graphics community. Many people swore never to buy anything there again. This year he decided to change the site's software to a new look and somehow lost track in the middle of the process, leaving the site unusable for several months. After the hiatus, the new software didn't work as well as the old. So customers who didn't have an emotional stake in the place found no particular reason to buy there.
The owner could have avoided both mistakes by asking a few people for advice. As in (1) Check the facts carefully before accusing an artist of theft; (2) Be sure new software works fully before turning off old software.
This morning at least three people have publicly expressed interest in taking over the business, so maybe all is not lost.