If you can't innovate, inancienate!
This entry a year ago,
where Polistra introduced her Law of Unthinkability, was mainly concerned with the unthinkableness of a border fence ... the conventional wisdom that "a 50-foot fence can always be scaled by a 51-foot ladder." I cited the
glacis,
a medieval construction method that prevented ladders from gaining a toehold on a wall. I suggested that engineers with a bit of imagination could invent a modern glacis.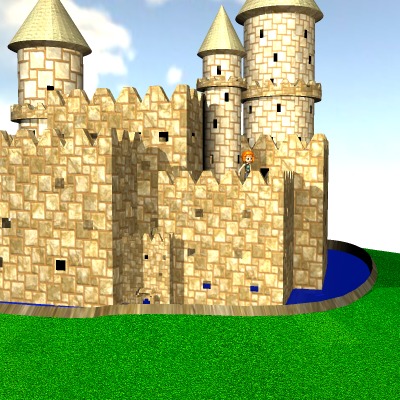 Well, it appears that others are in fact thinking in medieval terms!
A
Reuters article,
caught via
Vdare.com:
Faced with high-levels of crime and illegal immigration, authorities in Yuma are reaching back to a technique as old as a medieval castle to dig out a "security channel" on a crime-ridden stretch of the border and fill it with water.

"The moats that I've seen circled the castle and allowed you to protect yourself, and that's kind of what we're looking at here," said Yuma County Sheriff Ralph Ogden, who is backing the project.

The proposal seeks to restore a stretch of the West's greatest waterway, the Colorado River, which has been largely sucked dry by demand from farms and sprawling subdivisions springing up across the parched southwest and in neighboring California.

The plan to revive the river, which drains from the Rocky Mountains through the Grand Canyon and runs for 23 miles (37 kilometres) along the border near Yuma, seeks to create a broad water barrier while also restoring a fragile wetland environment that once thrived in the area.
So it's a plan that not only protects the border but restores an important river. Sheriffs like it for the right reasons, environmentalists like it for the right reasons.
Hooray for old ideas!