Bush in Benin
As much as I've come to disrespect Bush for his incompetent leadership of this country, I have to sympathize with the guy. His current situation can't be any fun.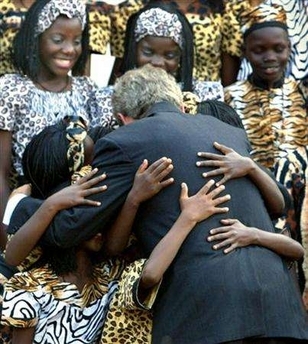 By contrast, he obviously likes these people, and they obviously like him.
Absolutely classic photograph, with all those hands competing for territory! I see two stories in the photo. First, those African kids have a fine unjaded sense of respect. They all want a tactile memory of their meeting with an important man, and they want the important man to know that he is loved and respected. Second, the Secret Service would never allow this to happen in America.
Hmm. What does that say about the relative level of civilization in the two countries?
And it must be a tremendous joy for a tired politician to encounter this expression of respect: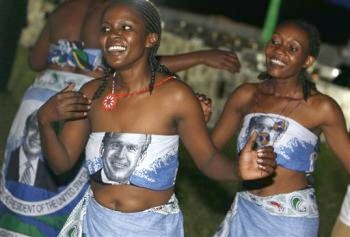 when he's been getting the opposite at home.
These Africans have a good reason for liking him. His AIDS program has already saved many lives. I wouldn't blame him for moving to Tanzania or Benin when his term is over, perhaps to manage a foundation of some sort. Bush is a kind-hearted compassionate man, the right man for such a foundation. He's not the right man for a wartime presidency.
Combine this with the likely election of Obama, who is a genuine African-American in the proper and strict sense of the word, and we may end up with something close to the situation Polistra
dreamed about
last year.