A Cat can look at a King
Thinking about the Canadian discovery of the cancer cure [see previous post]....
In the past, America was the center of innovation. That isn't true any more. Most of the significant invention and technical development now happens in Japan, Korea, Canada, and other countries less infested by lawyers.
American research suffers from four big problems, aside from the natural and inevitable waste and inertia of institutions.
1. The tenure system was meant to allow free thinking, but in fact it just forces young researchers to spend their brightest years on unoriginal work to satisfy their superiors.
2. Peer review was meant as quality control, but in fact it just stifles ideas outside the narrow orthodoxy of the Left.
3. Fear of terrorism by animal-rights types. Any project involving crops, trees, or farm animals is in severe danger of going up in flames.
4. Fear of litigation, as implemented by university Ethics Committees, aborts new ideas before they can even be considered. Any research idea involving human subjects must pass through the Ethics Committee; if it might cause slight discomfort to the subject, or if it might show a distinction between sexes or a distinction between ethnic groups, it is dead on arrival.
With those endemic problems, it's no wonder the original work is happening elsewhere.
=====
When I started thinking further about the fear of litigation, I bumped into a couple of truly strange exceptions.
An Ethics Committee never has a problem with embryonic stem-cell research. Wonder why? Oooohhhh, I see! The Committee is made up of leftists who enjoy poking Christians in the eye, but most of all, embryos don't have lawyers.
Even stranger, the
European nuclear research center
is preparing some experiments that could collapse the Earth or the universe into a black hole. Where's the Ethics Committee on this proposal? Oooohhh, I see again! After the universe has collapsed, there won't be any lawyers, so no problem! (O consummation devoutly etc.)
=====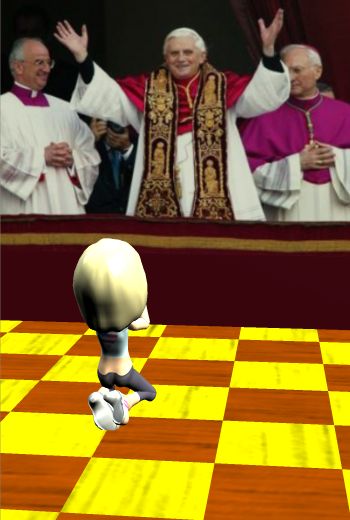 With all this in mind, Polistra the Cat looks at the King of the Church and asks:
Meow, Your Holiness! You've spent your life, as Professor and Pope, thinking about the connection of faith and reason. Faith expands reason and reason expands faith. Faith protects reason and reason protects faith.

You've also talked lately about reciprocity.

You also know, far better than I, that the Church invented universities as places where serious thought can be protected from superstitious witch-hunters and rough criminals; and where serious thinkers can be protected from their own strong tendency to use thought for devilish purposes. Works both ways.

I know you have divisions of lawyers at hand these days, because of the priest sex-abuse mess, which was part real and part witch-hunt.

And you know, far better than I, how much money and property the Church has lost in that mess.

So, Your Holiness, consider this modest proposal:

Mobilize those divisions of lawyers and SUE THE BASTARDS!

Join the Duke lacrosse players in suing the university and Kidnapper Nifong, on grounds that Duke failed to follow the old Catholic principle of protecting students from false imprisonment.

Sue Governor Arnie and his legislature for subsidizing human sacrifice in the form of embryonic stem-cell research, and sue any companies or universities that accept Arnie's blood-money.

Sue EarthFirst, ALF and other enviro-terrorists, and all politicians who support them.

Sue the European Hadron Collider for attempted murder of the entire time-space continuum.

Sue Planned Parenthood, the AMA, the UN Population Organization, and any other institution that spreads abortion.

Sue the Supreme Court "justices" who voted for Roe v Wade, and/or their heirs and/or legatees and/or testamentees and/or executrices if decedent.

Oops, this legal stuff gets addictive.

Anyway, Your Holiness, that's the proposal.

Reciprocity.

Protect the thinkers from devilish outsiders, and protect the thinkers from their own devilish temptations.

Your church invented this civilization; it's time to guard the patent.

And best of all, you just might win back some of the money you've given to the witch-hunters.
Labels: Ethics