Classic Darwinist point-missing
Article from MIT
discusses Bernie Krause, who has discovered for the first time ever that living things make sounds and hear sounds. Here's his moment of discovery:
Krause traded in an extremely successful career as an audio engineer, synthesizer specialist, and songwriter with renowned duo Beaver & Krause for a calling as a field recordist. He set about committing the world around him to tape, eventually creating the perhaps most expansive private collection of animal sounds, today clocking in at 4,500 hours of material by 15,000 different species. It would take several years for Krause to realize that this catalog-approach was fundamentally flawed and only capable of reflecting a tiny fraction of the vast sea of sonic information contained within natural soundscapes. It was in this semi-floating state — that transition between the blissful suspension of awareness and the depths of the total unconsciousness — that I first encountered the transparent weave of creature voices not only as a choir, but as a cohesive sonic event. No longer a cacophony, it became a partitioned collection of vocal organisms – a highly orchestrated acoustic arrangement of insects, spotted hyenas, eagle-owls, African wood-owls, elephants, tree hyrax, distant lions, and several knots of tree frogs and toads. Every distant voice seemed to fit within its own acoustic bandwidth – each one so carefully placed that it reminded me of Mozart's elegantly structured Symphony no. 41 in C Major, K. 551.
Every animal has its own bandwidth, and every animal has specialized ways to hear and produce its own bandwidth. Maybe this wasn't understood by the recording specialists, but it has always been understood DEEPLY by people who deal with cochleas and larynxes and other ways of making and hearing sounds. This is not a discovery. Needless to say, Krause immediately turned his "discovery" to use in boosting anti-Nature causes like the Carbon Cult. MIT wouldn't be praising him to the skies otherwise.
When life started to emerge in the giant oceans around 600 million years ago, the first organisms to populate this 'geophony' still had essentially unlimited bandwidth to choose from. Slowly but surely, however, things became more complicated: "At first, when their numbers were relatively small, acoustically sensitive organisms merely needed to filter out the geophonic background in order to perceive other sound-producing organisms within their habitats," writes Krause. "As the number of species increased and became more complex, they had to be able to hear and process the particular sounds that were relevant to their well-being. Over the course of many glacial periods, especially the recent ones,.....
Ready? See it coming now?
For one of his projects, Krause gained permission to record at a forest management area called Lincoln Meadow in the Sierra Nevada mountains, both before and after a lumber company had performed so-called selective loggings.
Got it. The purpose of treating sounds as part of a 'biophony' is to cause more forest fires and kill more people. = = = = = Aside from the genocidal crap, let's look specifically at the evolution crap. As always, the big problem with DarwinISM is synchronization. Every single piece of life, and every single function of life, works in synchrony with all other functions. This total 'biophony' in all functions has always been understood by real scientists, even if Krause's subfield didn't know it. BECAUSE all functions work together, random evolution can't possibly happen. The sound producer and sound receiver on each animal work together to produce and receive a specific bandwidth, AND a specific set of patterns with a specific set of meanings. The "cosmic rays producing accidental mutations" must have created the often weird senders AND receivers simultaneously, while simultaneously and synchronously forming the nerve connections to send and receive the patterns, and the higher parts of the nervous system to send and interpret the meanings associated with the patterns. None of these developments would help with survival unless ALL of them developed together ALL THE TIME. Each one would be a complete waste of effort, and would
interfere with other functions
, if it developed alone. Let's reprint one of those TRULY WEIRD mechanisms, from Sept 2019.
= = = = = START REPRINT:
Via Eurekalert,
new research on one of Nature's extremely "efficient" pieces of design.
The fly Ormia ochracea has evolved directionally sensitive ears to eavesdrop on the communication signals of field crickets. Crickets that are parasitized by these flies face almost certain death. How these flies recognize cricket songs and whether crickets can change their love songs to avoid parasitism is unknown. The Lee Lab of Neural Systems and Behavior at St. Olaf College will apply this new approach to unravel how different geographic populations of O. ochracea have evolved to recognize and prefer species-specific cricket songs that mainly differ in the temporal patterning of sound pulses. Temporal pattern recognition is a common sensory processing task shared by many animals that communicate with acoustic signals, including human speech. Studying temporal pattern recognition in O. ochracea may provide insights into general auditory system function involved in signal recognition. Lee believes that his research into O. ochracea hearing can be harnessed to help improve human hearing by providing engineers with insights into how the natural world has solved common hearing challenges such as recognizing temporally patterned sounds. Engineers have relied on biomimicry to design miniature microphones based on O. ochracea ears, with the hope of applying these microphones to create directional hearing aids.
St Olaf is especially strong in speech and hearing, so the implications are shaped toward S&H. This particular study is solid but not groundbreaking. I looked into previous research on these over-designed parasites........... The fly has a bay-window eardrum on the front of her thorax. She uses the two-sided eardrum as a direction-finder, walking in various directions until she homes in on the target cricket's chirp. Birds and mammals have large enough heads that we can use time of arrival and phase differences to determine sound direction accurately. This fly is almost microscopic, so there's no way for her to distinguish time of arrival between the sides. Instead, the two sides of the eardrum are coupled in the middle, giving a
differential
response to off-angle wavefronts and a non-differential response to straight-on wavefronts. This happens mechanically in direct response to the sound waves, not via neural computation. = = = = = In these animations, the gray blob is the thorax; the red and blue are the bay-window eardrum; and the eardrum is pushing a sort of malleus into three separate neurons: S for signal, R for Right side leading, and L for Left side leading. We can assume that the whole mechanism is sharply tuned to the frequency of the target cricket's chirp, because that's how Nature does things.
When the signal is coming from straight ahead, the middle of the eardrum moves, but there's no differential back-and-forth. The S neuron is sensing presence of signal. = = = = = In the second animation the insect has turned toward the left.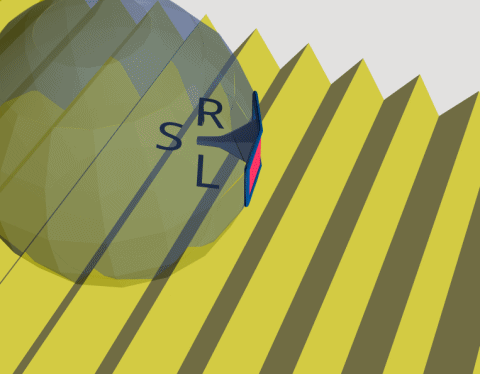 The high-pressure phase of the sound wave strikes the right window before it strikes the left window. The malleus rocks back and forth, giving the insect an OFF-BEAM warning, just like Loran. So the fly walks forward, using the R and L neurons for negative feedback. When the off-beam indicator is pulsing, she turns one way or the other until it stops. Energy efficiency? A tremendously clever and unique design, used only in this one insect, and only in the adult version of the insect which lives long enough to fuck and lay eggs and die.
= = = = = END REPRINT.
Continued in next item.
Labels: Carbon Cult, Equipoise, Grand Blueprint