Other way?
When I was writing the
satirical piece
on eliminating all streets with South in their name, I looked at a 1940 map of Ponca to see if there was a quick way to illustrate the point. Decided it wasn't worth the trouble, but then got an unexpected bonus: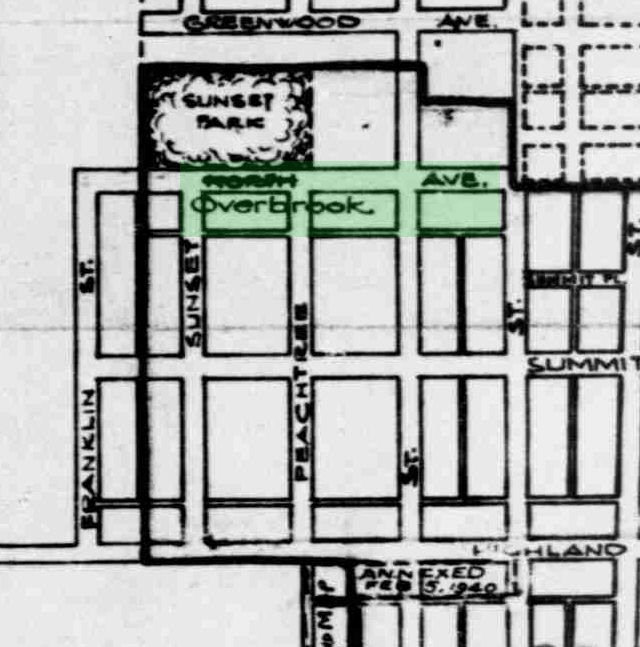 Did Ponca go the other way? Rename North Ave to Overbrook? Further examination showed that North wasn't the specific target. The city planners were just normalizing the grid so that each latitude and longitude had one street name. Developers had chosen their own names for streets, and it's easier to get around when you can count on one name per latitude. This works best with numbered streets, or alphabetical or presidential names, but it still helps with non-sequential names. When you see Overbrook, you know you're between Summit and Roosevelt. Whoops! The same planners DIDN'T extend the Roosevelt name to cover Greenwood.

You can see how Overbrook was pulled over to normalize North, Illegible, and Edison; but Roosevelt wasn't pulled over to normalize Greenwood. Both names remain today. Still doesn't indicate a pattern. If the Overbrook pull indicated a desire to wipe Yankee crap from the map, the planners should have pulled Greenwood to erase Roosevelt, and they shouldn't have extended Albany to cover Illegible. More likely the planners were retaining names of streets that were already settled, and renaming new or sparse streets. Simply minimizing inconvenience.