Where did all the Econ-O-Milers go?
Watching a dumb
Mexican movie
made in 1971. The intro caught my attention immediately:
Hey! That's a Lark Econ-O-Miler taxi. When Studie chopped down the '53 body to make the Lark, they continued their strategy of two slightly different sizes. In previous years the longer body had been the semi-luxury Land Cruiser. As a Lark variant the longer version didn't make sense, but they continued building it solely for taxicabs. No self-respecting USA taxi company would buy the Econ-O-Miler. Now I know where they went! A rear view of the Econ-O-Miler (or is it El Milero Del Econ-O? El Kilometrador Del Cheapo?) shows another unusual feature. (Along with the Lark standard equipment oil smoke.)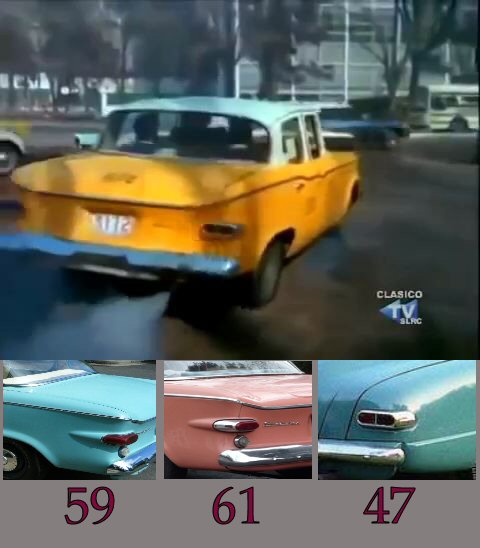 Those taillights were not used on Larks north of the border. I've included the '59-60 Lark wraparound and the '61 chrome-bezel versions. This Mexican taxi doesn't match either one. It DOES match the '47 Champion with divider bar in the middle. Were they meant to be interchangeable? Was this the regular Mexican version? Or just replaced by a clever Mexican mechanic who
made
them interchangeable? = = = = = Graphic sidenote: When I was hurriedly copy-pasting the rectangles, I stretched the '59 horizontally. The result looks MUCH better than the stubby actual '59. Too bad MacRae didn't have computer graphics. I suppose you could have used stretchy paper as a serendipity generator in those days....
Labels: Alternate universe